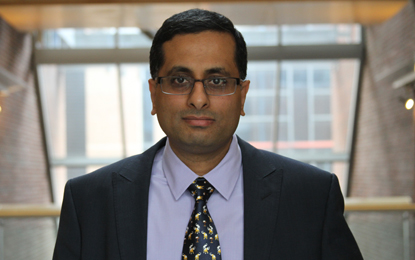 Vivek Thumbigere-Math, BDS, PhD, assistant professor in the University of Maryland School of Dentistry's (UMSOD) Division of Periodontics, wears many hats: running a lab overseeing multiple postdoctoral fellows and student volunteers, treating patients, teaching classes, and writing research grants and scientific articles for publication.
"There's no magic answer to balancing different responsibilities," says Thumbigere-Math. "It's the major challenge nearly everyone in academics has to handle."
So far, Thumbigere-Math has exceeded the challenge, earning numerous accolades since joining UMSOD in October 2017. Last March, he received the American Association for Dental Research (AADR) Joseph Lister Award for Young Investigators during the AADR Annual Meeting in Fort Lauderdale, Fla. Past October, he received the American Academy of Periodontology (AAP) Teaching Fellowship during the AAP Annual Meeting in Vancouver, Canada. During his 1-year tenure at the UMB School of Dentistry, he has also received a University of Maryland, Baltimore Institue for Clinical and Translational Research grant voucher and published several publications in prominent journals like Journal of Dental Research.
The AAP fellowship provides $50,000 to qualified faculty members who are in their first three years of teaching to support their commitment to careers in academia. Thumbigere-Math succeeded through a competitive process in which applicants were evaluated based on teaching, research, mentoring, and clinical accomplishments.
Thumbigere-Math credits his past educational experience for providing the foundation for him to thrive as a young faculty member. He received his combined PhD in Oral Biology and certificate in Periodontology from the University of Minnesota School of Dentistry, followed by a four-stint earning his Postdoctoral Fellowship at the National Institutes of Health (NIH) Oral Connective Tissue Biology Lab under Principal Investigator Martha Somerman, DDS, PhD, director of National Institute of Dental and Craniofacial Research (NIDCR).
"I was fortunate that Vivek joined my research lab at the NIH as a research fellow prior to his faculty position at the University of Maryland," says Dr. Somerman. "Vivek is an insightful and caring researcher, clinician, and educator, always available to provide assistance to others. I am certain Vivek will be one of our leaders and innovators in the field of dental-oral-craniofacial research and education, providing a stimulating environment for future academicians and clinicians."

Thumbigere-Math was inspired to specialize in periodontics while earning his BDS at Sri Siddhartha Dental College in Karnataka, India.
"I got really exposed to patients with oral cancer and periodontal disease, which is prevalent in India," he says.
The periodontics field also offered Thumbigere-Math the opportunity to perform clinical/surgical procedures while simultaneously doing research. Thumbigere-Math's work focuses on understanding periodontal disease pathogenesis and the development of periodontal complex.
"We study patients with rare degenerative disorders and use cell culture and animal models to understand what factors are important for root and crown development" he says.
Thumbigere-Math received the IADR's Joseph Lister Award due to the originality and potential public health impact of his research. He still collaborates with researchers at the NIDCR, focusing on extremely rare degenerative disorders such as Chediak-Higashi syndrome, which results in severe periodontal disease and premature tooth loss.
"We have the opportunity to examine these patients and understand why some are more susceptible to periodontal disease than others, and take it to the next level where we can regenerate some of the lost tissue structures in the lab in collaboration with researchers at UMSOD and other institutions" he says.