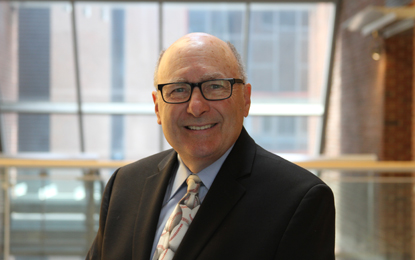 Howard Strassler, DMD, has taught operative dentistry for nearly four decades. A professor in the Department of General Dentistry, He is a distinguished author, lecturer, and researcher who has been recognized with some of the highest honors in the profession.
Yet Strassler's accomplished dental career came close to never happening. He was considering withdrawing from the University of Pennsylvania School of Dental Medicine after his first semester, until a professor broadened his understanding of the field. "He was linking dental cavities and periodontal disease to microbiology and health," he says, "and the light bulb went off that dentistry was truly a health care profession, and I could improve the lives of the people I was treating."
Ever since, Strassler has pursued new knowledge to better serve his students, colleagues, and the profession as a whole. At the center of this drive is an openness to new technologies and a passion for meticulously documenting his work. "Thirty-five years ago, I was carrying around a bag with 10 carousels of 80 slides each to every CE presentation. Today, I have a two-pound laptop with literally hundreds of lectures, thousands of images," he says.
After graduating from Penn, Strassler served in the Air Force's General Practice Residency at Barksdale AFB in Bossier City, La. He was appointed library officer, which led him to start a journal study club for the base's dentists. The next year, he started to teach the residents intra-oral photography.
The experience motivated Strassler to try teaching after serving for two years rather than settle into a private practice. After a year at the University of Texas, he applied for positions on the East Coast. After receiving multiple offers, he ultimately saw University of Maryland School of Dentistry (UMSOD) as the best fit.
"The faculty I met at Maryland were young, passionate and were fully committed to teaching," he says.
While at UMSOD, Strassler developed a second career as an author and a publisher by penning a regular column about new products for Dentist Magazine and shooting his own photographs. "I enjoyed sharing my ideas on paper, and the accessibility of the earliest computers in the 80s allowed me to write as fast as I was thinking," he says.
Strassler's column had a snowball effect, as manufacturers took notice and invited him to present on the latest materials and techniques in adhesive restorative dentistry. "I had entered dentistry during a perfect storm: developments such as light-cured composites, porcelain veneers, fiber reinforced composites, fiber posts, bleaching and more were new to practitioners—and they wanted to learn how to use them."
As a result, Strassler brought extensive knowledge of these new techniques and materials to his students in the classroom. And over time, Strassler has continued to re-invent and reimagine himself by adopting new methods of instruction. "You have to have a vision for the future, what I sometimes refer to as 'looking around corners'," He says.
"From the time I began dental school 32 years ago to the present, Dr. Strassler has always shown a great deal of passion and enthusiasm for teaching his students the art of dentistry," says Adam Eisner, DDS '89.
Part of Strassler's vision is utilizing the technological delivery of instruction, particularly digital media, to engage students. "I understand there can be no one way to provide information to dental students, dental hygiene students, and dentists, and so using this digital environment I've found that you need to create knowledge instruments across a broad range of media," he says.
During the past eight years, Strassler has embraced the concept of a flipped classroom, recording hours of lectures for his courses in his home studio that students can view on demand. He's also presented case-based seminars in place of lecture time. "It helps students understand the intricacies of diagnosis and treatment planning through problem solving and decision making," he says.
Strassler's decades of scholarship and teaching excellence have not gone unnoticed. In 2000, he received the highest honor from Academy of General Dentistry, the Thaddeus Weclew Honorary Fellowship, given to an individual who has made outstanding contributions to the art and science of dentistry or who has enhanced the principles and ideals of the Academy of General Dentistry. In 2001, he received the UMSOD Frank J. Sinnreich Award for Excellence in Teaching.
Ultimately, the challenges of each new generation of students, and the teaching methods used to engage them, are what excites Strassler. "The students' inquisitiveness keeps me on my toes and keeps me young. I am still having a lot of fun."