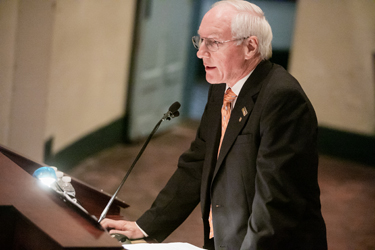 Edwin Morris, DDS '74, was interested in dentistry since he was 16, but he wasn't sure he could afford it. In a twist of fate, he started dating a dental assistant at age 18. Morris developed a friendship with her boss – an Orthodontist - and this inspired Morris to pursue a career in the field regardless of the obstacles.
54 years later, Morris currently serves as President of the Maryland State Dental Association (MSDA), the culmination of long and successful career as a practicing Orthodontist. His dental assistant girlfriend – Betty - also became his future wife of 49 years. It's safe to say that meeting her worked out for him.
Nevertheless, as a young man Morris had to navigate a difficult road to achieve his goals. He worked full-time and went to night school at the University of Maryland Baltimore County (UMBC) as an undergrad, majoring in biology. He was employed in several unique jobs, including serving as a scuba diver and taking underwater photography for a research company that developed the underwater spacewalk simulation for NASA By the time he transitioned to being a full-time student at UMBC, he was older, and thus had to play catch-up with many of his peers.
Morris eventually applied to only one dental school: The University of Maryland School Dentistry (UMSOD). UMSOD – and dental schools in general – were tougher places many decades ago, but Morris appreciated the rigorous education he received.
"Maryland worked me pretty hard, but they taught me a lot and taught me well," he said.
Despite acceptance at several other schools for his post-graduate residency in orthodontics, Morris stuck with Maryland due in part to his wife's job as well as the strength of the program.
Morris's loyalty to Maryland, and passion for dentistry, makes him well-suited for the presidency of MSDA. His ascent to a leadership role evolved naturally through his long-term engagement with organized dentistry and study clubs. He developed friendships with past leaders of the MSDA – Harry Dressel, DDS '45, Frank Dolle, DDS '59, Roedel Jaeger, DDS '64, and John Patterson, DDS '64– who served as role models in his development.
As a result, he has great respect for organized dentistry, and he wants to convey this through his leadership of the MSDA.
"We are in a respected, learned profession due to the hard work of the people before us," he said. "We have to maintain these standards and pass them on to the next generation."
Part of this goal includes convincing non-members to become part of organized dentistry.
"Even if our goals are not directly translatable to dollars in your pocket, it helps with the strengthening of the profession itself."
Morris's other passion includes educating young dentists about how to guide their careers. He is concerned about the growth of student debt – which he describes as "beyond the pale" – and he encourages dental students to do whatever they can to minimize it.
"If you have to live in the basement with your parents, do it, even it's not a popular thing," he said.
Morris also wants to emphasize business acumen for young graduates. Some of his tips are very specific – he warns that no practitioner should sign a contract before they have it reviewed by ADA attorneys, which is a free service ("many do not read contracts to their detriment," he said). In addition, he wants students to take a broad view toward developing financial expertise and business acumen in order to ensure long-term success.
Morris has operated a private practice in both Perry Hall and Fallston for 35 years, and he's worked in stints at Mercy Hospital and as a part-time faculty member at UMSOD. He has earnest the highest respect from his colleagues, including his role-model Roedel Jaeger:
"I have referred many patients to Ed Morris over the 30 years of working together," said Jaeger, "his Orthodontic treatment results and care for our patients is outstanding."
Morris' breadth of experience also strengthens his belief that young dentists need to make smart business decisions.
"You'll make mistakes early in your career that you'll pay for the rest of your career if you don't go in with your eyes open."
In addition to Morris, UMSOD will have another graduate serving as a president of a state dental association in 2017. Michael Eggnatz, DDS '88, is currently President-Elect of the Florida State Dental Association, and will assume his role in June.