A large cross-section of University of Maryland School of Dentistry (UMSOD) alums, students, and faculty volunteered to treat underserved patients at the Southern Maryland Mission of Mercy (MOM) held July 27-28 at North Point High School in Waldorf, Md.
Eighteen senior dental students performed extractions while 20 junior students assisted in various capacities. Student participation at MOM events is a recent trend that was started at the Baltimore MOM held in September 2016.

"UMSOD faculty and alums have been volunteering for MOM events for years, but dental students typically weren't allowed to perform treatments," says Ramsay Koury, DDS, clinical assistant professor in the Department of General Dentistry and faculty supervisor for student MOM volunteers. "We believed that if students performed treatment efficiently at the Baltimore event, we would take them to other MOMs in the state, and they did very well."

Since then, UMSOD students have successfully participated in MOM events on the Eastern Shore and in College Park. Typically, around 40 students attend each event.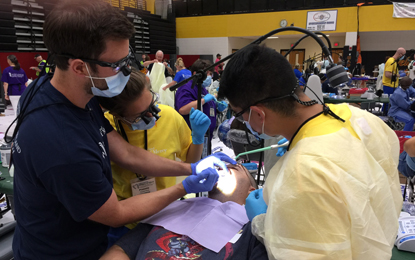 "Our students love doing it, we don't work very hard to recruit," says Koury.
For the Waldorf MOM, UMSOD students covered 15 of the 100 chairs available for patients. They were supervised by six UMSOD faculty members, and seven Advanced Education in General Dentistry (AEGD) residents also participated.
MOM events are organized throughout the state by the Maryland State Dental Association (MSDA) to provide underserved patients throughout the state with dental treatment. "It's all about need," says Koury. "Urgent care centers are swamped with emergency dental care demands, and it's hard to maintain a strong base of volunteers for MOMs. Dental schools are game changers in that respect, because we can bring enthusiasm and people."

Koury credits the "phenomenal" oral surgery instruction at UMSOD for giving students the skills needed to perform extractions. "Our students get faster and better. They are beyond where I was as a student in their confidence and approach," he says.

Hannah Fong, a D4 student who provided treatment at the Waldorf MOM, credits Cynthia Idzik-Starr, DDS, clinical assistant professor in the Department of Oral and Maxillofacial Surgery, for providing her and other students with a strong oral surgery training foundation. "She (Idzik) is the reason our program is so strong — because she's built it up," says Fong.

Fong was inspired to participate in MOM to help underserved patients to relieve pain. "A lot of these patients have been waiting for a year to receive care," she says.
In addition to student and faculty volunteers, 17 UMSOD alums representing the classes of 2012 through 2017 participated as well. "It was a good way for these recent graduates to stay connected to the school and instill the spirit of volunteerism in our current students," says Koury. "You haven't lived until you do something for someone who can never repay you, and that's what this event is really about."