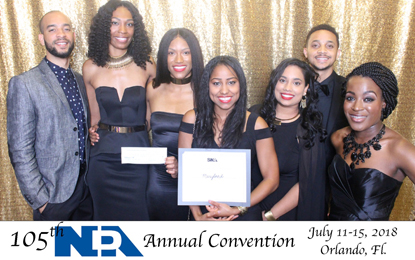 For the third year in a row, the University of Maryland School of Dentistry (UMSOD) chapter of the Student National Dental Association (SNDA) was awarded Chapter of the Year by the National Dental Association (NDA).
The award, presented during the NDA's Annual Convention, held July 11-15 in Orlando, Florida, is given to the chapter that excels in fundraising, community service and new initiatives. The NDA also considers implementation of three national programs: Impressions Day, in which pre-dental undergraduate students visit dental schools to learn about the experience from DDS students; a holiday canned food drive; and the Oral Cancer Walk.
Members of the UMSOD SNDA outdid themselves in 2018 after successful 2017 and 2016 campaigns, generating $23,000 for the Oral Cancer Walk — up from $19,000 the previous year. In addition to hosting 100 pre-dental students at UMSOD for Impressions day, the chapter also started Mini-Impressions Day, a version for high school students., Chapter members hosted 31 high schoolers at the University of Maryland, Baltimore County and provided guidance on entering into DDS or dental hygiene careers.

The UMSOD chapter also conducted 27 community outreach events, 18 social events and eight professional development meetings for its members.

"Our chapter continues to strive for excellence as well as provide for our community," says Alenna Monet, DDS '19, SNDA president for the 2017-2018 school year.
Janet Southerland, DDS, MPH, PhD, vice president of Interprofessional Education, Institutional Effectivess and the Health Education Center at the University of Texas Medical Branch, served as a member of the NDA evaluation panel that determined the Chapter of the Year award winners. She stated that the UMSOD chapter's high level of engagement and camaraderie has led to its sustained success.
"They are a chapter that functions as a high-level team and that gives them an advantage," she says, "they have been one of our most active chapters, and we are proud of their success and look forward to their continued growth and leadership."