Visiting the dentist or doctor can be terrifying for patients who are cognitively delayed, autistic, suffer from dementia, or disabled in other ways. Deborah Jastrebski, a former physician assistant and the mother of a son with Down syndrome, aims to remedy that.
About 15 years ago, Jastrebski developed a way of helping her son relax around caregivers. In 2009, she founded Practice Without Pressure, a nonprofit that trains clinicians how to care for patients with special needs.
Jastrebski, in collaboration with Janet Yellowitz, DMD, MPH, director of the University of Maryland School of Dentistry (UMSOD) Special Care Clinic, last spring offered Practice Without Pressure (PWP) training to faculty, staff, and students.
"What we are teaching allows clinicians to put these patients at ease and add that human connection to the techniques that they are learning in dentistry," says Jastrebski, who led the six-month program.
"[PWP] has helped hundreds of individuals with special needs receive dental care without sedation or restraint—something they had always had in the past," Yellowitz says. "Once trained, providers do not need to be trained again so it forms a new paradigm of care."
The next step is to research how the PWP program best fits into the UMSOD clinics—and to raise the funding to expand the program, says Yellowitz. "Hopefully, we'd then train one of our staff to be a PWP practice specialist."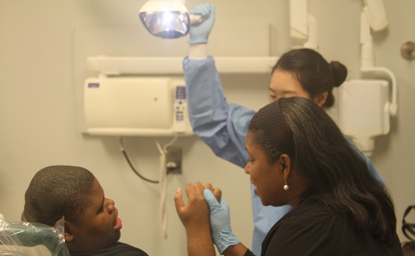 Jastrebski developed her philosophy when her son, Marc, now 28, was an adolescent. Marc, who is cognitively delayed and has a heart condition, was frightened of any stranger who came close to him whether a dentist, doctor, or hairstylist. By the time he turned 12, he had weathered two complicated heart surgeries and a slew of other medical or therapeutic exams and procedures. For many of the procedures, his mother says, he was restrained or sedated.
To help him, she broke down the procedure—whether having teeth cleaned, blood drawn, or other health-related procedures—into tiny, incremental steps that allowed her to connect with him while conditioning him to relax around caregivers. "I pretended to draw blood by using a paper clip to press against his arm and saying, 'tickles,'" she says. "He went little by little from screaming and crying at the doctor's to doing a blood draw all on his own."