Bashayer Baras, BDS, a PhD candidate in the Department of Advanced Oral Sciences and Therapeutics at the University of Maryland School of Dentistry (UMSOD), has long been attracted to root canal therapy due to the possibilities of utilizing advanced dental technology to develop new solutions.

"There will always be a need for suitable alternatives to the traditional materials used in root canal therapy," she says, "and by developing novel bioactive smart materials, we can regenerate and strengthen root structure through the release of ions and promote the longevity of root canal therapy and potentially prevent future tooth loss."
On March 15, Baras presented her proposed root canal therapy alternative — a sealer with antibacterial and remineralization properties — at the annual Graduate Research Conference hosted by the University of Maryland, Baltimore (UMB), which provides students and postdoctoral fellows with the opportunity to present their research to the campus community. She won the Graduate Translational Research Award due to the strength of her proposal, receiving $500 toward further research.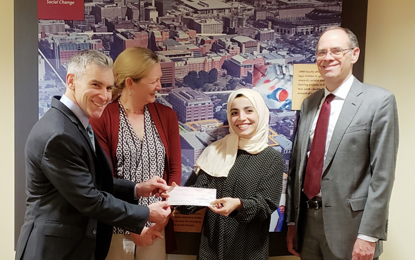 Baras's sealer is intended to address the main cause of root canal failure, which is the persistence of micro-organisms within the canal space. The persistence of micro-organisms develops for two main reasons: the complex anatomy of the root canal system, and the resistant nature of root canal biofilm.

"We wanted to develop a root canal sealer that can disinfect the root canal system and prevent future reinfection," says Baras. "Also, many disinfectants used in root canal therapy can alter the tooth dentine structure, so for this reason, we wanted to add a remineralizing agent to strengthen the structure and prevent future vertical root fractures."

Baras hopes to eventually take her idea and develop a marketable product. She credits Huakun Xu, PhD, MS, director of UMSOD's Division of Biomaterials and Tissue Engineering, for providing mentorship and support for her research goals.

"It has been my pleasure to be Baras's mentor," says Xu. "Her method has provided a promising approach to inhibit endodontic biofilms and prevent recurrent endodontic infections."