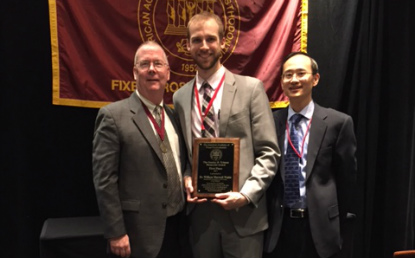 While William Wahle was a third-year student at the University of Iowa College of Dentistry and Dentistry Clinics, he decided that he wanted continue his education beyond graduation. "Something was missing," he said, "so I went to one of my faculty mentors for guidance thinking I was going to enter a General Practice Residency."
Instead, this faculty member, Terry Lindquist, DDS, MS, associate professor, recommended that Wahle enter a Prosthodontics residency program.
"When William went through our Jr Prosthodontic Clinic rotation, he showed a genuine interest and understanding in the Prosthodontics procedures and care for the patient," Linquist said, "He always had good questions and did well with follow laboratory work."
Apparently, Lindquist's instincts were correct. Wahle, a 2016 graduate of the UMSOD prosthodontics residency program, recently finished first place in the 2016 Tylman Award Program, an annual honor bestowed by the American Academy of Fixed Prosthodontics (AAFP). In February, Wahle accepted the award and presented his winning report, "Radiographic Evaluation of All Ceramic Crown Margins" at the 2017 AAFP annual meeting in Chicago, Il. He is the fourth UMSOD resident in the last 10 years to receive the award; no other program has produced as many winners during this time.
Wahle's research was conducted with the support of a $3,900 grant from AAFP and focused on the marginal opening that exists between a crown and the tooth on which it is placed. Wahle set out to determine the overall accuracy of the radiographic evaluation of the fit of a crown. The results indicated that radiographs could be used as an aid for determining fit, but could not be fully relied upon for a definitive diagnosis.
"You could be more likely to send a well-fitting ceramic crown back to the lab due to radiographic appearance, or you may cement a porcelain-metal crown that was ill-fitting because the x-ray made it appear to fit well," he said.
Wahle decided to pursue a career path in dentistry after shadowing his mother while he was a sophomore in high school. "After working as an assistant to her, I thought, 'I would enjoy doing this'" he said.
After completing his undergraduate education at the George Washington University, Wahle enrolled in Iowa's DDS program. He ultimately chose UMSOD's prosthodontics program because of its comprehensive focus on both lab and clinical work and strong program history.
Despite his penchant for research, Wahle is still keeping his career options open. He currently works at a private practice in Lutherville, Md.
"There's potential to do research, potential to teach, I'm just figuring it out right now."
---