Throughout February, the University of Maryland School of Dentistry (UMSOD) celebrated Black History Month in recognition of African-American heritage and the valuable achievements and contributions of the African-American community.
Below, we take a look at the origins of Black History Month and highlight the African-American pioneers in national dentistry and closer to home.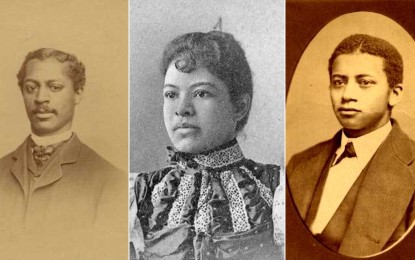 Overview
Created to focus attention on the contributions of African Americans to the United States, the concept behind Black History Month was the brainchild of Dr. Carter G. Woodson. Considered the "Father of Black History," Dr. Woodson firmly believed that the contributions of African Americans should be recognized by all as integral to the successful development and history of the United States.
The son of former slaves, Dr. Woodson attended Berea College in Kentucky and earned a master's degree from the University of Chicago and a doctoral degree in history from Harvard University. A prolific writer, he authored many scholarly books and magazine articles detailing and analyzing the contributions of African Americans to society. In 1915, he and others founded what is now called the Association for the Study of African-American Life and History in Chicago.
Dr. Woodson declared that the second week of February should be known as Negro History Week because the month includes the birthdays of President Abraham Lincoln and Frederick Douglass, both of which had long been celebrated in black communities. The first Negro History Week, a time of study, dissemination, and recognition of African-American history, culture, and innovations, was celebrated in 1926.
Decades later, in 1969, a monthlong tribute to black history was proposed by African-American educators and students at Kent State University; one year later, the first Black History Month was held. In 1976, during the U.S. Bicentennial, Black History Month was recognized by President Gerald R. Ford, who encouraged all Americans to "seize the opportunity to honor the too-often neglected accomplishments of Black Americans in every area of endeavor throughout our history."
Dr. Woodson, who died in 1950, worked tirelessly to ensure that the contributions of African Americans would be recognized and celebrated throughout the United States and beyond.
"Those who have no record of what their forebears have accomplished lose the inspiration which comes from the teaching of biography and history," Dr. Woodson said.
Black History in Dentistry
We all know of African-American luminaries and civil rights icons such as Harriet Tubman, Douglass, and the Rev. Dr. Martin Luther King Jr., but — particularly at a school of dentistry — it is imperative to recognize African-American pioneers in the dental field.
Dr. Robert Tanner Freeman was the first African American to earn a dental degree, graduating from the Harvard School of Dental Medicine in 1869. Alongside his colleague, Dr. George Franklin Grant, he was one of the first two African Americans to matriculate at the school. The son of former slaves, Dr. Freeman was born near Washington, D.C., where he worked for a local dentist before enrolling at Harvard.
During his dental career — cut short by his early death in 1873 — Dr. Freeman served as a mentor to other aspiring African-American dentists in the Washington area.
Dr. Grant, also the son of former slaves, became the first African-American professor at Harvard University.
Born in Oswego, N.Y., he, too, worked for a local dentist as a teenager. He graduated from Harvard in 1870. As a dentist, he specialized in the treatment of cleft palates and patented a prosthetic device. A man of many interests, he later patented a wooden golf tee that utilized a resin commonly used in root canals.
Twenty-one years after Dr. Freeman graduate from Harvard, Dr. Ida Gray Nelson Rollins became the first African-American woman to earn a dental degree.
Born in Clarksville, Tenn., and raised in Cincinnati, Dr. Rollins was — like Drs. Freeman and Grant before her — inspired to enter dentistry after first working in a local dental office. Notably, she worked in the office of Dr. Jonathan Taft, a strong advocate of coeducation who had become dean of the University of Michigan School of Dentistry in 1875.
Dr. Rollins enrolled at Michigan in 1887 and graduated in 1890. She first worked in private practice in Cincinnati before relocating to Chicago. In both locations, she served an integrated clientele. Dr. Rollins retired in 1928 after an illustrious career.
Black History at UMSOD
As an institution located in a state where Jim Crow laws predominated for much of the 20th century, UMSOD's history of training African-American dentists begins a full century after Drs. Freeman and Grant enrolled at Harvard. Dr. Elton Preston Maddox Jr. was the first African-American dentist to graduate from UMSOD, in 1972; the Class of 1977 saw the school's first two African-American female graduates in Drs. Debra Antoinette Bass and Yvonne Marzett-Frisby.
Prior to the matriculations noted above, the school's faculty was first integrated in 1963, when Dr. John E. Bonas was hired as a research associate in the Department of Physiology. In 1968, Dr. Bonas became the school's first African-American graduate student; he received his PhD in 1972.
Today, however, 12.8 percent of the school's DDS student body is African American, one of the highest percentages for a dental school that is not part of a historically black college or university. The current DDS first-year class includes 21.1 percent underrepresented minority.
Notably, UMSOD has an engaged and robust Student National Dental Association (SNDA) chapter, which was named the SNDA's 2020 Chapter of the Year (large chapter category) in recognition of its exemplary fundraising, community service, and outreach — an honor that marks the seventh consecutive year that UMSOD has won either first or second place in the national competition.
At the same 2020 event, UMSOD's SNDA chapter also received the Colgate Bright Smiles, Bright Futures Award, which recognizes outstanding contributions and community outreach.
In addition, the school's SNDA chapter was just honored with a University of Maryland, Baltimore (UMB) 2021 Rev. Dr. Martin Luther King Jr. Diversity Recognition Award, which honors the individual or group achievement of UMB faculty, staff, or students whose work epitomizes the ideals, life, and work of the late civil rights leader.
Events of the past year, of course, only serve to highlight the persistent social inequities and health disparities that exist in our country. UMSOD is committed to prioritizing social justice and making it a more visible component of the education it offers students and the environment in which its faculty and staff serves patients.
To that end, the school recently created a Dean's Diversity Advisory Board and a standing Inclusive Excellence and Equity Committee to guide the institution. A diverse, equitable, and inclusive environment is not only consistent with the Core Values of UMB — which include diversity and civility, among others — but is central to fostering excellence in oral health education, biomedical research, and clinical care.