Focusing on collaboration, fine-tuning successful programs, and capitalizing on a lot of enthusiasm, made a winning combination for the University of Maryland School of Dentistry's (UMSOD) Student National Dental Association (SNDA).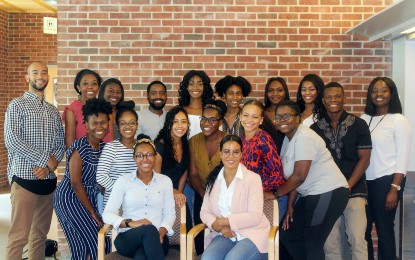 The UMSOD group was named SNDA's 2020 Chapter of the Year (large chapter category) in recognition of its exemplary fundraising, community service, and outreach – an honor that marks the seventh consecutive year that UMSOD has won either first or second place in the national competition. The chapter also won the Colgate Bright Smiles, Bright Futures Award, which recognizes outstanding contributions and community outreach. Both awards were presented at the annual SNDA conference, this year held virtually from July 6-11.
"It wasn't our goal to win, but we thought if we do everything we've done before but focus on making things bigger and better, we could improve our chapter," says Vaida Saucer, a fourth-year student and the 2019-20 president. "We wanted to be sure we were inclusive and collaborative. And, I have to say, this year we had a lot of [first-year students] who were really enthusiastic."
The Chapter of the Year competition is based upon how successful each chapter is in fundraising, performing community service, and launching new initiatives. Additionally, each chapter is assessed on how it executes three standing national programs: Impressions Day, in which pre-dental undergraduate students visit dental schools to learn about the dental school experience; a holiday canned food or toy drive; and an oral cancer walk.
But the annual programs are just the beginning, points out Andrea Morgan, DDS, MS, clinical assistant professor in the Division of Operative Dentistry, and director of Student Advocacy and Cultural Affairs. "The chapters are recognized for these three standing annual programs as well as the many other programs they plan and organize on their own. It is really great that [the members of UMSOD's chapter] continue to rise above and get noticed by their peers. I'm really proud of them."
Early this year, the UMSOD chapter hosted a regional conference for SNDA chapters from the East Coast. Held on January 18, the event drew participants from dental schools including Howard University, Virginia Commonwealth University, East Carolina University, and the University of Florida. Programing included oral health speakers such as Catrice Austin, DDS '96; as well as a financial advice segment; and a community service component during which attendees packed 200 care packages (filled with dental and personal hygiene products) to be distributed to members of the Baltimore community.
The UMSOD chapter, which in 2019-20 had 96 members, also organized "Lessons in a Lunch Box," through which dental students visited elementary schools to teach students about oral health. At each school, they passed out lunch boxes filled with the accoutrement of dental health from toothbrushes to floss.
UMSOD's SNDA has a history of launching new, high-impact initiatives. One, called Generation NeXT, provides opportunities for UMSOD dental students to mentor high school students who are training to be dental assistants at Baltimore's Vivien Thomas Medical Arts Academy. Through the mentoring program, which was launched in 2017, dental students work to inspire the younger students to pursue DDS or dental hygiene degrees.
Each year, the current chapter aims not just to sustain its programs but also to enhance them, notes Saucer. Overall, "our focus is community service and trying to encourage the presence of minorities in the dental field," she says.
"So, what we do includes everything from mentoring high school students and educating them about oral health to mentoring undergraduates about how to apply to dental school and build successful careers."