Brittany Bergeron, DDS '13, can vividly recall dipping her toes into the waters of the American Association of Women Dentists (AAWD). Her involvement with the professional association initially centered purely around the social connection, but her role progressively morphed into a leadership post. The Baltimore-based dentist served on the AAWD board of director for six years and currently is AAWD president. Fellow UMSOD graduate Lauren Aguilar Wronsky, DDS '15, also served on the AAWD board for the past three years and was just recently voted president-elect for 2021.
"I first got involved as a freshman at the University of Maryland School of Dentistry," says Bergeron. "I joined because I was interested in getting to know other students as well as women in dentistry."
Wronsky also joined AAWD as a freshman student, took a two-year breather after graduation, then rejoined in 2018. "It's become a journey."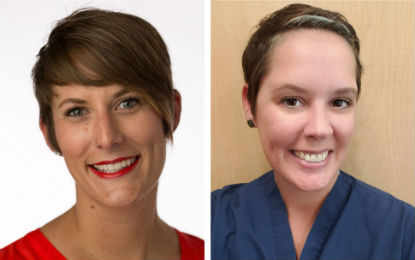 Both UMSOD grads consider themselves mentees of Mary Beth Aichelmann-Reidy, DDS, division chief of periodontics and a clinical associate professor also long active with AAWD. Reidy first served on the board of directors for more than a decade and then as president in 2013 when both Bergeron and Wronsky were students.
"Maryland gave us such a great opportunity to be more involved through so many clubs and organizations," says Bergeron. "A lot of schools don't offer that scholarship or funding and I think that experience really helps students see what life is like outside of school and the advantages of getting— or staying — involved more broadly."
Today, with a decade of AAWD experience behind her, Bergeron embraces the opportunity to help raise the visibility of issues pertinent to fellow females in the profession, especially at such a pivotal time in the field.
"Women are becoming the majority players," says Bergeron. "And I'm hoping to be a part of raising the awareness that it's not that women dentists can't do the same things as males but we sometimes have to do things differently. Medical devices, for example, need to be better-tailored for women. AAWD is 1,300-members strong," she adds, "and the more we work together, the louder we are heard."
Wronsky, meanwhile, applauds UMSOD's community outreach and the opportunity it provides students to share their skills with those most in need.
"Through Smiles for Success, we had unique opportunities to treat women who don't always have access to care. Women who were in a job placement program after situations of abuse were able to get professional attire as well as free dental work so that they could go to job interviews with confidence."
Speaking of personal growth, Bergeron notes that one of her greatest fears prior to her AAWD presidency was public speaking.
"I was completely terrified," she remembers. "Personally, I don't like to speak publicly at all. But as president, I speak in front of people now all the time.
"And that's part of a leadership role. That's what leaders do … face (their) fears. So, I think there's a great benefit to AAWD not only for networking and creating a sense of community but for personal growth as well. It really is an opportunity to have grown personally as well as professionally."
AAWD will host its annual conference Sept. 26-29 in Phoenix. As Bergeron steps to the podium to address attendees at the festivities, Reidy will also be honored as this year's recipient of the Lucy Hobbs Taylor Award, named in honor of the first woman to earn a doctorate in dentistry.
Bergeron nominated Reidy for the honor. "She is such a fantastic mentor. …She was the one who originally got me involved and is the embodiment of women supporting women."
"She's a big part of why I became involved," concurs Wronsky, now practicing in Charlottesville, Va. "She was a sitting president for the board while I was in school. And her award is the most prestigious from the organization. The university has put forth some really good current and past presidents. I'm really proud of that."
The organization in 2021 will celebrate its 100th anniversary.
And the mood at this year's annual conference will be decidedly celebratory leading up to the centennial milestone.
"We've had a lot of positive growth this year," says Bergeron, "and I think the changes are important to keep us relevant in the industry and back (in) the spotlight as the main representative of women in our profession nationally."