Mary Beth Aichelmann-Reidy, DDS, division chief of periodontics and a clinical associate professor at the University of Maryland School of Dentistry (UMSOD), will receive the American Association of Women Dentists' (AAWD) highest award next month. The Lucy Hobbs Taylor Award is named for the first woman to earn a doctorate in dentistry and holds a special place in Reidy's heart.
"I'm honored," says Reidy. "In my mind, this award represents recognition of my contributions to women in dentistry and for being an advocate in supporting women's oral health care needs. I've played an active role in AAWD for more than a decade and mentored our student members as they prepared to enter the field of dentistry."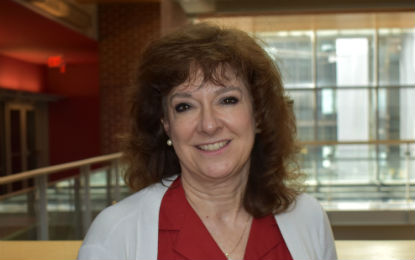 "I have also tried to be an ambassador for women dental professionals," she continues, "and, more specifically, advocating for better ergonomic equipment design with dental manufacturers so the women practitioners can work more comfortably and efficiently with instruments and equipment suitable to their needs."
As an educator and researcher at UMSOD, Reidy teaches, directs predoctoral and postgraduate courses in periodontics, and mentors resident research projects. Reidy is board-certified as a diplomate of the American Board of Periodontology – where she currently serves as a co-vice chair on its board of directors – and is a diplomate and fellow of the International Congress of Oral Implantologists and a fellow of the American College of Dentists. She served as AAWD president in 2013.
Notably, in 2018, she was recognized with the American Academy of Periodontology's Educator Award for outstanding teaching and mentoring in periodontics. In 2009, Reidy developed the first student-based component to the Smiles for Success program, which offers donated dental care to women preparing to enter the workforce and change their life's path.
The Lucy Hobbs Taylor Award will be presented at AAWD's annual meeting, to be held Sept. 25-28 in Phoenix.
"I'm excited to represent the field and the school," she adds. "It's national recognition of my contributions to women in dentistry and support of women going into professions, and encouraging them to help other women. That has been an honor and privilege."