Saying that teaching with kindness lays the groundwork for transformative learning, Glenn Canares, DDS, clinical assistant professor and director of the University of Maryland School of Dentistry's (UMSOD) Graduate Program in the Division of Pediatric Dentistry, urged his fellow faculty members to "Connect first then teach."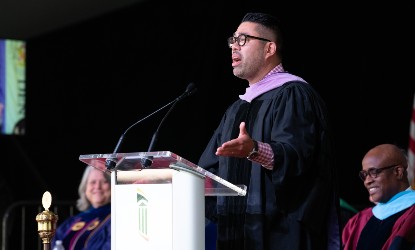 "Practicing kindness and small consistent actions are what sustainable shifts are made of," Canares said. 'As we connect and create more chains of connections, we change. We change ourselves. We change each other. We change our profession."
His remarks came at the second annual University of Maryland, Baltimore's (UMB) Faculty Convocation held on Sept. 14 in a tent on 650 W. Lexington St. The event marked the beginning of a new academic year and celebrated UMB's eight new Distinguished University Professors.
The title of University Distinguished Professor is the highest appointment bestowed upon a faculty member of UMB. It recognizes not only excellence, but also impact on and significant contributions to a nominee's field, knowledge, profession, or practice.
The 2023 honorees included UMSOD's Robert K. Ernst, PhD, Dr. Paul and Mrs. Jean Corcoran Endowed Professor and Chair, Department of Microbial Pathogenesis, as well as faculty members from UMB's Francis King Carey School of Law, School of Social Work, School of Pharmacy, and the University of Maryland School of Medicine (UMSOM).
In addition to his UMSOD appointment, Ernst is an adjunct professor in the Department of Microbiology and Immunology at the School of Medicine. His lab has been at the forefront of innovative research studying the molecular basis by which bacteria modify the lipid component of their membrane, specifically lipopolysaccharide, and how these alterations affect normal host innate immune system responses, potentially resulting in septic shock. He has received more than $20 million in research funding since arriving at UMSOD in 2008. His work has resulted in more than 190 peer-reviewed manuscripts with 17,000-plus citations. He was named UMB's 2017 Founders Week Researcher of the Year and 2019 Entrepreneur of the Year.
In addition to Canares, event speakers included Laundette Jones, PhD, MPH, UMSOD assistant professor of epidemiology and public health; Roger J. Ward, EdD, JD, MSL, MPA, provost and executive vice president; and UMB President Bruce E. Jarrell, MD, FACS; each of whom spoke movingly about improving the human condition little by little — through innovation, engagement, and compassion.
"The choice before us is we could wait for somebody — the city, the state, I don't know who — to come by and fix the problems, clean up the risks around our campus," Jarrell said. But, he added, "we have another choice. The other choice is to actively engage — to step up as a university. …. I know that's what I'm going to do. And I know I can count on all you to help me to support us in this effort to make this environment a greater environment."
To read more about Robert K. Ernst, PhD, and the other 2023 Distinguished University Professors, visit:
https://www.umaryland.edu/news/archived-news/september-2023/2023-convocation-focuses-on-bringing-change.php.