Panelists exploring gaps in Americans' access to oral health care engaged in a lively discussion on Sept. 24 during a presentation by DentaQuest in partnership with POLITICO. The discussion, "America's Oral Health: An Emerging Crisis," was live streamed from the nation's capital.
Richard J. Manski, DDS, MBA, PhD, professor and chair, Department of Dental Public Health at the University of Maryland School of Dentistry (UMSOD), was among the health policy experts selected for the panel. He reminded listeners that is unnecessary to justify the need for oral health care because oral health is innate. "If anyone in this room has ever had a toothache, you know oral health is important," Manski said. "If anyone in this room has ever had a dental infection, which could lead to sepsis that could lead to death, you know it's important.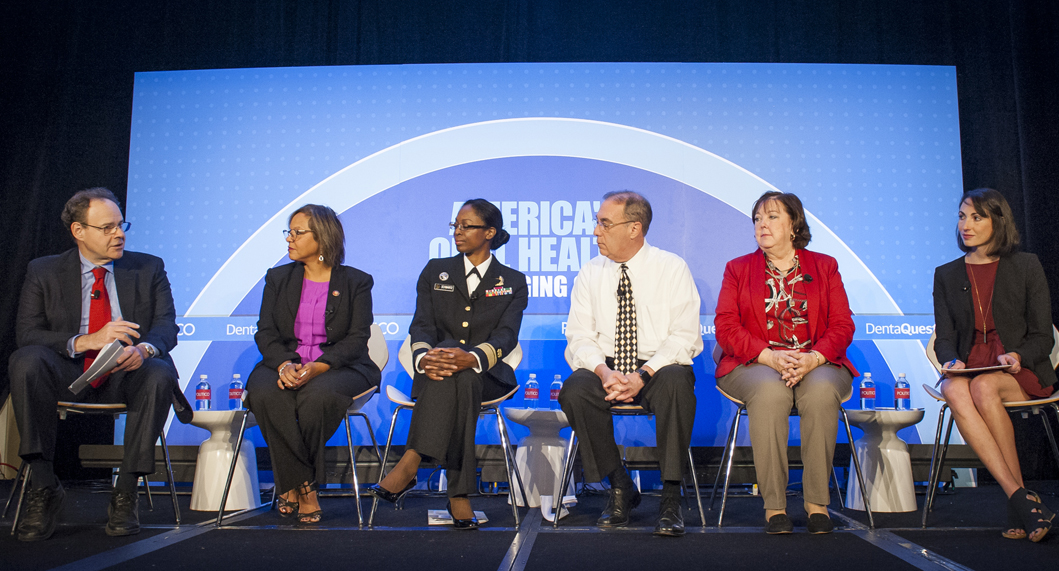 "And for the elderly, it's especially important," he said, noting that after retirement a person may have reduced income at the very time when needs for dental care are increasing. "A number of my colleagues have been working tirelessly, trying to make the case for a need for oral health coverage under Medicare."
(View a video below.)
Fellow panelists were Rear Admiral Erica G. Schwartz, MD, JD, MPH, deputy surgeon general in the U.S. Department of Health and Human Services; Rep. Robin Kelly (D-Ill.), a member of the House Committee on Energy and Commerce; and Julie Watts McKee, DMD, state dental director of the Kentucky Department of Public Health.
Steve Pollock, chief executive officer of DentaQuest, welcomed the panel and the audience at the Mayflower Hotel in Washington, D.C., along with viewers who accessed the event online. Others were following the conversation on social media, using the hashtag #POLITICOOralHealth. "We believe that getting more people involved in a discussion around oral health will help everybody get access to oral health," he said. DentaQuest also released a new survey that showed three of four Americans report barriers to accessing dental care, among other findings.
Moderator Adriel Bettelheim, health care editor at POLITICO, gave an overview to open the discussion, part of the POLITICO Live series of events. "An estimated 74 million Americans lack access to basic dental care, about twice as many people as the number of people without health insurance," he said. "It's a very fragmented system." Bettelheim was joined by Rachel Roubein, a health care reporter for POLITICO Pro, whose questions encouraged the give-and-take.
Kelly spoke about preventive care, saying she would like to see "people in the habit of going to the dentist every six months." But in some cases it is not cost but culture that keeps people away, she said. Instead they wait until decay or infection sends them to the emergency department, which is not cost effective.
"Dentistry is not cheap, but we need to do everything we can do," said Kelly, who introduced the Action for Dental Health Act that was signed into law last December. Among other things, it provides grants to support activities that improve oral health education and dental disease prevention.
Schwartz spoke of what she called "the incentive piece," saying that motivating the public would be among topics addressed in the widely anticipated report on oral health to be released by the Office of the Surgeon General in 2020, the first since the Surgeon General's report in 2000. "Oral health is overall health," she said.
Manski also spoke to the issue of public awareness. "I think one of the things we have not done well, is we have not had a sufficient public campaign to talk about how important oral health is," he said.
In his remarks, Manski also advocated for dental education reform to widen access and to better integrate medicine and dentistry. One idea is for a combined degree.
McKee addressed the need for greater collaboration between physicians and dentists by envisioning a system to introduce dental care at the site of primary care. "That integrates both the medical part and the dental part, which needs to come together more," she said. One solution is to embed a so-called primary care dental hygienist in the clinic or physician's office, whether it be family practice or a medical specialty such as endocrinology or cardiology. The result, she said, would be that "proper referrals are made for dental care, for oral surgery care."
Schwartz said having oral health educators embedded in traditional medical clinics is an idea that the office of the surgeon general may find worth pursuing.
Manski picked up on the discussion, suggesting the place to introduce dentistry could be in urgent care centers. The business model might be appealing, he added.
Addressing monetary issues, Manski noted that Medicaid's fixed-budget model could be viewed as an opportunity to learn what to avoid in any oral health expansion planning. "We drive practitioners out of the marketplace," he said, noting that low reimbursement fees for dental procedures result in a lack of access to care. "We achieve through that kind of rationing," he said, "a way to control the budget."
Instead, he suggested an opportunity to innovate by setting up tiers of coverage. "We have to have that hard discussion, that hard debate among ourselves and make the decision: What are the things we know we need to cover? We need to cover treatment for pain and infection, and maybe another tier for restorative care. We need to make some decisions about how we allocate those budgets." That would be in contrast to the current situation, which he described as limiting federal spending through lack of access and non-availability of practitioners.
In a rhetorical question that got to the heart of the discussion, Manski asked: "How do we make dentistry not only work for most people, how do we make dentistry work for everyone?"