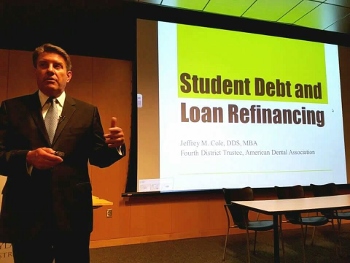 As the Class of 2020 entered their first week at the School Of Dentistry, the American Student Dental Association (ASDA) exposed them to the vast opportunities that organized dentistry has to offer through a series of presentations and networking events.
From August 22nd through the 26th, ASDA hosted welcome events each day with leaders from the Maryland State Dental Association (MSDA), American Dental Association (ADA), Academy of General Dentistry (AGD), and SOD student groups.
"Throughout the week, it was our goal to familiarize the D1 students with organized dentistry early on during their time here," said Chad Dammling '17, the current ASDA president, "we wanted each student to know that even in their preclinical years, the ADA, the ‌MSDA and ASDA are here to help guide their curriculum and reinforce their interests in dentistry. The inaugural welcome week was a great success and we look forward to hosting this event for years to come"
Monday's lineup included speaker Dr. Tom a'Becket, the current president of the Maryland State Dental Association (MSDA). Tuesday offered a lunch and learn with Mike Graham from the American Dental Political Action Committee (ADPAC), a group which focuses on giving dentist's a voice in the public policy arena. On Wednesday, leaders from the various student-led specialty groups represented at SOD. With speeches from the Endodontics, Pediatrics, Prosthodontics, Orthodontics, and Oral Surgery interest groups, incoming freshman learned about career options and ways to get involved in the community.
On Thursday, the Academy of General Dentistry (AGD) hosted an informational session and evening networking hour geared toward students interested in general dentistry, allowing them to meet and talk with practicing dentists in the state of Maryland.
To conclude the week of informative events, Dr. Jeff Cole, the current District 4 Trustee for the American Dental Association, spoke on Friday regarding student debt refinancing and what the ADA is doing to help.
"It was an amazing opportunity to host an event welcoming the D1 class to dental school," Luke Tompkins '17, the current AGD president, "as a student led organization, our goal has been to involve students early on from all classes and this event has allowed us to do so."
Throughout the week, first-year students were given the opportunity to both learn about organized dentistry and ask questions to national leaders such as Dr. Jeff Cole, Dr. Tom a'Becket, and Mike Graham. Tess Moran, a current D1 had the following to say after the events:
"The University of Maryland surpassed my expectations in its support of the Class of 2020. All of the professors and professionals who presented lectures and informational panels facilitated a smooth transition into the world of dental education, and the community of students supporting us promise a great four years ahead."