Many people choose their professional careers because of their personal passions, including Sydnee Chavis, DMD, MS, a Clinical Assistant Professor in the Special Care and Geriatrics Clinic at the University of Maryland School of Dentistry. Dr. Chavis specializes in advocating for people and patients with special needs and at a young age was inspired to pursue this calling by her older sister, Brandi.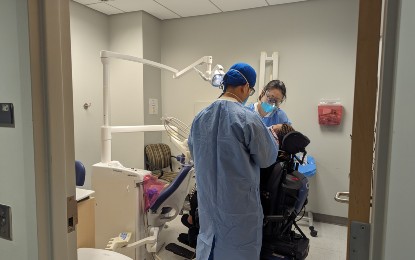 "I really wanted to be in academia and specifically in special care because my older sister has some pretty significant special needs and disabilities, including cerebral palsy with some additional cognitive disabilities," Dr. Chavis explained. "Growing up with her was such a gift for me and my siblings, seeing her be able to do so much and accomplish so much."

"But also, I remember from a very young age, seeing people stare at her or assume she couldn't do things or talk about her in front of her. And then what also made a big impression on me was it how difficult it was for my parents to find her care. I have very vivid memories of my parents having very heated discussions, crying, or arguing with people on the phone about trying to find her the right care, or schools, or programming. And as I got older, it became so apparent to me that if it was so difficult for my parents, who were educated and knew how to navigate the system and certainly had means to find care for her, how difficult must it be for anybody else?"
With these experiences and a desire to pursue a career in clinical health care, the path forward for Dr. Chavis was clear.

"Dentistry is the most unmet health care need for adults with disabilities and special needs, but I wanted to do more than just me seeing my own patients individually, so that is why I decided to go into academia," Dr. Chavis explained. "My hope is that if I can teach dental students or residents to feel comfortable or understand how to communicate with or relate to people with special needs who maybe are non-speaking or don't necessarily communicate or interact in the way that most of the general population does, that it would have a broader effect on the health care needs of individuals with special needs and other cognitive disabilities."

As a member of the Special Care and Geriatrics Division, which is housed within the Department of Oral Maxillofacial Surgery, Dr. Chavis and the other dentists and dental hygienists serve adults with special needs, intellectual and developmental disabilities, medical complexities, older adults, and any other patients who have difficulty accessing or obtaining dental care for any reason in a clinic that is dedicated to them and their needs.

"We have different kind of space that allows for more privacy," Dr. Chavis explained. "It's more sensory friendly in that it's individual rooms instead of all open bays, and we really focus on meeting the patients where they are as far as dental care and providing care for adults who have difficulty finding it elsewhere."

In addition to clinical care, Dr. Chavis is also working to expand the services the School of Dentistry provides in terms of oral health education for family members or other caregivers. One example of this is something that many of us take for granted – brushing our teeth.
"For adults with developmental or intellectual disabilities, they're often unable to brush their own teeth and might also have a kind of sensory discomfort or other defenses where they don't want their teeth brushed, or they don't want anyone in their mouth to brush their teeth for them," Dr. Chavis said. "Tooth brushing then becomes an afterthought among all their other needs, but your mouth is the ingress to everything important for your body so it's pretty important when it comes to your overall health care."

"What me and some of my colleagues in special care are working on now is trying to bridge some relationships with organizations in the community that serve adults with disabilities to bring dental care to them, coordinating events where we can empower people to understand why oral health care and dental care is important, and serving as a resource to educate people within the community. Then the goal would be to expand our clinic so that we can treat more patients within the school, create satellite clinics to expand the capacity and the functions of our clinic, and expand the clinic from an interprofessional perspective and collaborate with healthcare facilities, occupational therapists, ABA organizations, and the like."

In addition to her work with the clinic, Dr. Chavis is also focused on research to learn how dental care, and healthcare in general, is approached, delivered, and accessed by adults with special needs.

"The research that I do is investigating the methods that dentists use to treat adults with special needs, trying to expand educational programs to empower dentists to see more patients with special needs, and really expand the capacity and ability of dentists to take care of adults with special needs," Dr. Chavis said.

While October is Disability Justice and Awareness Month, the goal of which is to raise awareness of the diverse needs, experiences, and contributions of people with disabilities, this is something that Dr. Chavis and her colleagues strive to achieve as part of their everyday practice.
"From a respect and justice standpoint, don't all people deserve the chance to receive dental care in the same way that most people do, as opposed to being looked at and saying, 'Well, you can't open your mouth when I tell you to, or you don't understand what I'm saying, so I can't take care of you'?" Dr. Chavis asked.

Looking ahead, Dr. Chavis hopes that one day the disparities in dental care between adults with special needs and disabilities and the general population will have disappeared.

"My hope is that any barriers for adults with special needs and disabilities have been removed and dentists as a whole feel comfortable and empowered to work with patients with special needs and disabilities thanks to the education they received while in dental school," she said. "If somebody with autism or cerebral palsy or Down Syndrome goes to their local dentist, that dentist will have the education and capabilities to reasonably treat that patient in their office without the need to refer them to someone else or send them to a specialized care center for their treatment."

To learn more about the UMSOD Department of Special Care and Geriatrics Services, please visit https://www.dental.umaryland.edu/patients/special-care-and-geriatrics. To learn more about the UMB Educational Support and Disability Services and its work as part of Disability Justice and Awareness Month, please visit https://www.umaryland.edu/disabilityservices.