School of Dentistry professor studies capsaicin, an active component of chili peppers, seeking a way to treat chronic oral diseases such as orofacial pain and periodontitis.
Treating chronic oral diseases such as orofacial pain and periodontitis is a hot-button topic whose solution could lie with Man-Kyo Chung and capsaicin, an active component of chili peppers.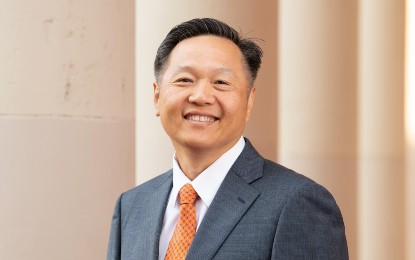 Chung, DMD, PhD, professor, Department of Neural and Pain Sciences, and assistant dean of research and graduate studies, University of Maryland School of Dentistry (UMSOD), studies how we feel pain at both the molecular and body levels, especially conditions arising from oral and craniofacial areas, with the objective of developing and promoting non-opioidergic pain treatments.
He is an expert in the electrophysiological, biophysical, and genetic analysis of nociceptors and nociceptive ion channels, including transient receptor potential vanilloid 1 (TRPV1), a receptor for capsaicin. Much of his research has been on capsaicin and how capsaicin receptors produce and alleviate craniofacial pain.
"Capsaicin has been known to alleviate pain for millennia. However, the mechanisms of analgesic effects have been enigmatic, which was partly due to the lack of good animal models," said Chung, who also is co-director of the University of Maryland Center to Advance Chronic Pain Research (CACPR). "We found that capsaicin produces reliable, long-lasting analgesia in a trigeminal nerve injury model in rodents. This finding opened the possibilities to study analgesia-related plasticity in peripheral and central pain circuits."
Chung's contributions and efforts in the field of pain research have led him to be named the University of Maryland, Baltimore's (UMB) 2022 Founders Week Researcher of the Year.
"Using multidisciplinary approaches, Dr. Chung and his research team have made great strides in our understanding of the peripheral and central neurobiological mechanisms underlying dental pain, craniofacial muscle pain, and neuropathic pain," said UMSOD Dean Mark A. Reynolds, DDS, PhD, MA. "Supported and recognized by federal, state, and industry sources, Dr. Chung's research has the potential to radically change the lives and well-being of many who suffer from acute and chronic dental and orofacial pain."
Chung has long been interested in studying pain treatments and capsaicin. After becoming a dentist, his curiosity about craniofacial pain led him to earn a PhD in the physiology of pain rather than pursuing a clinical specialty.
"I was in PhD training in South Korea and was mesmerized by the discovery and fascinated by the polymodal ion channel that integrates multiple noxious stimuli, such as capsaicin, heat, and acid," Chung said. "After the completion of training and military service, I was fortunate to join the lab of Michael Caterina, who discovered capsaicin receptor, as a postdoctoral fellow, and my research on capsaicin receptor began."
Caterina, MD, PhD, Solomon H. Snyder Professor of Neurosurgery and director of the Neurosurgery Pain Research Institute at the Johns Hopkins University School of Medicine, said Chung has made substantial progress in two areas: the demonstration of the importance of TRPV1 to muscle pain in the trigeminal system, which is responsible for sending pain sensations from your brain to your face, and the mechanism by which TRPV1 paradoxically desensitizes sensory neurons to pain, which had been a longstanding question in the field.
"Whereas TRPV1 activation causes pain, it has long been recognized that persistent exposure to TRPV1 activators causes a degeneration of nociceptive nerve terminals that leads to relative insensitivity to pain," Caterina said. "Yet, the fundamental molecular mechanism by which this profound effect occurs remained enigmatic for many years. Dr. Chung and his group tackled this problem head-on, through elegant in vitro and in vivo approaches, to demonstrate unambiguously that the activation of the protease calpain is a key step in TRPV1 mediated nerve degeneration. This finding has important potential implications for the development of novel pain therapies based on nociceptor degeneration."
Recently, Chung received an eight-year, $8 million R35 grant for Sustaining Outstanding Achievement in Research (SOAR) from the National Institute of Dental and Craniofacial Research (NIDCR), part of the National Institutes of Health, given to mid-career professionals in recognition of outstanding research, leadership, and service. As part of this award, Chung also is investigating how pain-sensing nerves modulate bone loss in gum diseases, which may open new possibilities to treat gum disease by regulating nerve-related pathways.
"Gum disease is another major problem in dentistry. Periodontitis is highly prevalent — 40 percent of adults in the U.S. have it — but difficult to treat," Chung said. "We investigate how pain-sensing nerves in the gingiva regulate bone remodeling under the condition of periodontitis."
He also is conducting research in temporomandibular joints (TMJ), studying how injuries to the TMJ lead to persistent pain and joint degeneration.
"We are particularly interested in the modulation of pain and degeneration of TMJ by the peripheral and central nervous systems," Chung said. "This study will enhance our understanding of the relationship between pain and joint degeneration leading to better management of musculoskeletal pain without adversely affecting joint structures."
In addition to his research and work at UMSOD, Chung serves as co-director of CACPR, which is a Universitywide center composed of diverse pain research groups involving faculty members from the schools of dentistry, law, medicine, nursing, pharmacy, and social work. The center strives to advance the management of chronic pain through preclinical and clinical research.
"It is a highly collaborative group. My primary role is to facilitate vibrant, collaborative environments at UMB for basic, translational, and clinical pain research and to improve the well-being of chronic pain sufferers," Chung said. "Developing novel non-opioidergic pain treatments is one of our goals."
Chung's colleagues praise him for this type of collaboration.
"He is passionate in facilitating vibrant, collaborative environments at UMB for basic, translational, and clinical pain research, and his leadership will contribute to improving the well-being of chronic pain sufferers in the U.S.," said Richard Traub, PhD, professor and chair, Department of Neural and Pain Sciences, UMSOD. "Dr. Chung's career illustrates a commitment to discovering, understanding, and solving complex clinical problems revolving around orofacial health at the most basic level."
Caterina called Chung "one of the most impressive investigators I have met in the pain field, and one who will continue to be a leader in the field for years to come."
"He is a deep thinker who reads the literature thoughtfully, who genuinely understands what is and isn't known, and who boldly develops elegant but feasible experiments to test the hypotheses that result," he said. "He is also a patient and dedicated mentor. I have seen him interact with his students and postdocs and am tremendously impressed by his dedication to their training and professional development."
Chung, who thanked his wife and colleague, Se-Lim Oh, DMD, MS, clinical associate professor, Division of Periodontics, UMSOD, for her support as well as his lab members, colleagues, and mentors, said he was grateful to be recognized with UMB's Researcher of the Year Award.
"Since the moment when I started my graduate training, I have looked up to the pain research group at UMB," he said. "It has been amazing that I became one of them, collaborate with them, and developed my research program at UMB."