In June, the University of Maryland School of Dentistry (UMSOD) launched a novel program that, in two years, awards students both a bachelor's and a master's degree. The dual-degree program was designed for college graduates who already have a background in the sciences but want to delve specifically into the health care realm.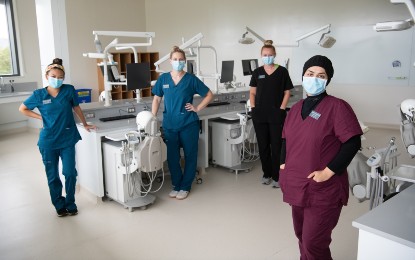 The Clinical Dental Hygiene Leader (CDHL) program appealed to students like Paige Christensen, a Calvert County, Md., native who graduated in 2013 with a B.S. in animal sciences from Delaware Valley University and became interested in dental hygiene after finding work as a dental assistant. Likewise, Phuong Hoang, who graduated in 2017 with a B.S. in biochemistry from the University of Maryland, Baltimore County, and had grown up with three close relatives in the dental field.
Nasrin Kolahdouzan, the mother of two young girls, earned a B.S. in biology in 2007 in Iran and saw the CDHL program as a faster way to not only be a part of the health care community but provide greater opportunities for job growth, job security, and a higher salary in the years ahead.
"This is a big dream for me," she says.
Carly Miller, meanwhile, a May 2020 graduate of Mount St. Mary's University who holds a B.S. in health sciences, had long aspired to be a nurse or occupational therapist before shifting her attention to dental hygiene – like Hoang, after landing a job in a dentist's office and seeing the profession up close.
"What sets the CDHL program apart is that for prospects interested in making a career change, they can pivot fairly quickly without losing substantial time or income," says Sheryl Syme, RDH, MS, associate professor and director of the program. "Whereas a traditional path would take four years to obtain a bachelor's degree and another two for a master's, the CDHL offers both in a third of the time. Because applicants come to the table with 57 credits in required science prerequisites, they are able to hit the ground running."
Interest was immediate and more than four dozen prospects have attended one of three virtual open houses highlighting the second CDHL session to begin in June 2021. The good news? A larger class size opening up to six participants in the second and subsequent years.
"It's been a very competitive market," says Syme, who did extensive research while developing the core CDHL curriculum and found none comparable.
"I called different colleagues looking for guidance," she says. "They didn't have anything similar and were excited about the prospect."
UMSOD's CDHL curriculum features a mix of online and clinical dental hygiene instruction and includes graduate-level courses focused on research, interpreting scientific data, scholarly writing, and ethical decision-making, oriented toward health care professionals who want to work more hands-on with patients, perhaps, or become a thought leader or project manager.
"They're a little bit of a different breed," says Syme of CDHL students. "They're mature, they already have a degree under their belt and are looking for ways to channel their energy into community health, for instance, or work with specialty populations or in a position where they can be more of a guiding force."
Christensen, for one, felt more and more drawn to the public policy side of healthcare.
"Public policy affects us every day in ways we don't even think about," she says, "and it got me to thinking that this is a great way to move dentistry forward and advocate for the vital role a dental hygienist plays in overall and oral health."
Hoang knew she wanted to pursue a master's and, as a volunteer at a local Mission of Mercy event that provided free services to the underserved, the Silver Spring, Md., native was inspired to increase oral health literacy among the general public.
"This program gives me the opportunity to do that," says Hoang, who worked for three years as a dental assistant at Kanter Dental in Ellicott City, Md. "When I started looking for a job in dental health, I was curious about what the field would look like for me. I wasn't aware of how much I'd enjoy it until I did it. Getting to know people more intimately – that's what I really enjoy."
Miller, meanwhile, had long aspired to go into the health care arena – she just wasn't sure exactly where. "Growing up, I always had that mindset that I wanted to help others," says the Howard County, Md., native.
When she heard about UMSOD's master's degree program, Miller says she liked the intensity of the program as well as its flexibility.
"It offers so many opportunities, whether in the clinical setting or in research and administration," says Miller. "I know it's going to be a tough and rigorous program, but everyone has been helpful and I know I'm in a program where they'll make sure I succeed."