When she was growing up, Kathryn Pawlak DDS '19, struggled to understand why her grandfather placed his teeth in a cup every night.

The answer deeply affected her. Originally from Poland, her grandfather survived three years in a concentration camp during World War II and suffered from poor oral health the rest of his life as a result.

Many years later, after receiving numerous awards and accolades for her oral health outreach work to underserved children, Pawlak still considers her grandfather as her primary motivation. "His tragic story reinforced my desire to improve the oral health of children," she says.
Pawlak, who started the nonprofit Planet Smilez, Inc., as an undergraduate student at Hobart and William Smith Colleges in order to teach children from underserved communities about nutrition, oral cancer prevention, and the importance of oral hygiene, has received two recent scholarships in recognition of her community service work here at UMSOD.
On Sept. 8, she received the Crest Oral-B Scholarship from the Hispanic Dental Association (HDA) during the HDA Regional Conference in Chicago. On Oct. 15, she was announced as the 2018 winner of the Dental Trade Alliance (DTA) Scholarship. Both scholarships are awarded to students who show a superior commitment to community service.

During her first year at UMSOD, Pawlak started a Baltimore chapter of Planet Smilez, and later partnered with the Port Discovery Children's Museum's First Saturday program to teach toddlers proper brushing and flossing habits. In the summer of 2016, Pawlak was given an opportunity to develop a summer camp for the University of Maryland, Baltimore (UMB) CURE Scholars program, which prepares middle-school students from underrepresented minority communities in West Baltimore for careers in healthcare and science.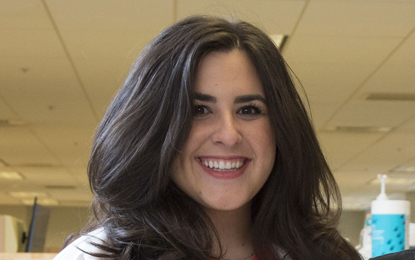 Called "Planet Smilez Discovering Dentistry Camp," the summer camp offers hands-on learning opportunities for CURE Scholars to study the positive effects of fluoride and sealants, as well as the detrimental impact of a sugary diet and acidic beverages on tooth decay. Students were also introduced to the UMSOD dental simulation labs, where they learned how to place a class I composite restorations to treat tooth decay and attended presentations on the role of tobacco products on the development of oral cancer.
The success of Discovering Dentistry, which continued through the summers of 2017 and 2018, led Pawlak to create additional activities for the UMB CURE Scholars, including the UMB CURE Oral Health promotions program, in which the CURE Scholars receive dental exams and sealants from UMSOD students and faculty volunteers.

"It is my personal mission to equip the CURE Scholars with the knowledge and opportunities to keep their long-term dental health under control," she says.

Pawlak's work with the CURE Scholars is a continuation of the outreach she conducted while at Hobart and William Smith. As a junior undergraduate, she was awarded a Presidential Leadership Grant to develop an international mission trip to Ojo de Agua, Salcedo, Dominican Republic, and implement a curriculum to teach 90 children ages 2-12 the importance of dental health practices. Her program included home visits to children and their families throughout the community.
Last Summer, she took this same program to Point Fortin, Trinidad and Tobago. This program included completing dental outreach to children and parents from three local schools and focusing on working with the Point Fortin School for the Blind.

"It's important to ensure understanding of health care knowledge with parents in order to reinforce good practices in the household," Pawlak notes.
Pawlak is planning another outreach trip to Ojo de Agua after graduation with the hopes of expanding the program to include more families and surrounding communities. In addition to looking to specialize in pediatric dentistry, Pawlak intends to grow the Planet Smilez Discovering Dentistry camp both globally and within Baltimore.
"My goal is for the Discovering Dentistry Camp to become an essential component of summer camps within the Baltimore community, so that children of all ages can participate in the prevention of oral diseases," she says.