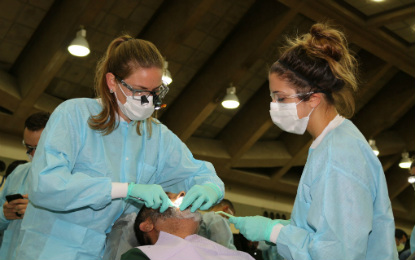 Hundreds of local residents stood in line outside the Baltimore Convention Center on Wed., Oct. 11, hoping to participate in the Baltimore Mission of Mercy.
In the next few days, nearly 950 patients would receive free dental care provided by 275 University of Maryland School of Dentistry (UMSOD) volunteers – including dental and dental hygiene students and faculty members – who would take panoramic X-rays and perform 2,000 extractions, 200 fillings and 160 preventive treatments. While the students and faculty worked, volunteers from UMSOD's Central Materials Management Systems department were onsite to keep sterile instruments ready for use.
Part of the United Way of Central Maryland's Project Homeless Connect, the annual event provided a one-stop venue for timely and convenient delivery of critical oral health, legal, and other social services for the under- or uninsured.
And -- although the event officially was held October 12-13 -- UMSOD jumpstarted the process by offering free dental X-rays, wristbands, and guaranteed next-day treatment to the first 200 people who came one day early.
The need was evident. One patient arrived at 3 a.m. to make sure she'd be seen. A second, unable to eat anything but soft foods without pain, came seeking relief. Still another was a single mother of two who, although a working mom, could not afford routine dental visits.
"I did a lot of triage work, and the first thing most patients said was, 'thank you,' or 'God bless you,'" said Ramsay Koury, DMD, a UMSOD clinical assistant professor, who with Louis G. Depaola, DDS, MS, associate dean of Clinical Affairs, oversaw the dental clinic. "Many of these patients have no resources, and the overall aim was to provide quality care. It became a great opportunity for us all to work together."
In addition to the United Way, UMSOD's other partners included the Maryland State Dental Association (MSDA) and Remote Area Medical (RAM). The unique social and health services collaborative garnered news coverage by regional newspapers and TV stations as well as increased public interest on University of Maryland social media sites.
This was UMSOD's second year providing dental services at the MOM, and patient volume increased about 40 percent, up from 701 patients treated last year.
Unlike many other states, Maryland has no adult dental Medicaid benefit, said Vanessa Benavent, DDS '09, MSD, FAGD, a clinical assistant professor at UMSOD and president of the MSDA. "Clearly there's an unmet need."
Indeed, according to a survey conducted by the United Way, dental care was identified by homeless and underserved people in the area as their No. 1 need.
"I am extremely proud of what the School of Dentistry volunteers accomplished at the Mission of Mercy," said Mark A. Reynolds, DDS, PhD, dean and professor of UMSOD. "In two days, we provided oral health services to more than 900 of our neighbors in need, with the bulk of care provided by our exceptional students. We've now established a new model of treating a large number of people who lack access to care – and our students gain real-world experience while providing much-needed treatment."
Many patients expressed their relief at getting treatment. Ronald Ward, who'd been forced to chew on one side for more than a year, arrived from a homeless shelter eager for relief from the pain of a decayed canine tooth and a molar. "It hurts pretty bad," he said.
Lewanda Smith, meanwhile, received fillings to repair four decayed upper teeth. Later, her mood was lighter. "My smile is nice," she said after the event.
Overall, the effort was a positive experience for those who sought relief as well as those who delivered care, said UMSOD's DePaola. "It's not just dental care; it's medical care in general. They have no resources or they are extremely limited. And I'm very, very proud of our students. We give them an invaluable clinical education, but we can't provide them real-world experiences like this."