Man-Kyo Chung, DMD, PhD, professor, Department of Neural and Pain Sciences, and assistant dean of research and graduate studies, University of Maryland School of Dentistry (UMSOD), detailed his work studying treatments for oral and craniofacial pain and periodontitis during his University of Maryland, Baltimore (UMB) Researcher of the Year presentation Oct. 25.
Chung was introduced before the hybrid presentation at the UMSOD Auditorium by UMB President Bruce E. Jarrell, MD, FACS, and UMSOD Chief of Staff David George, DDS, MBA, FAGD. Jarrell discussed how Chung was chosen as Researcher of the Year, one of the five Founders Week awards handed out by the University.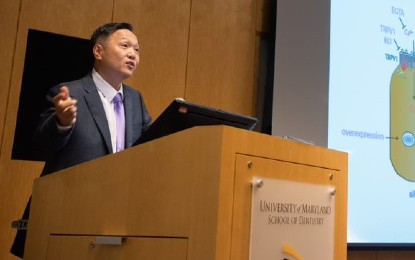 "The evaluation is based on a number of things: the years of investigation, the extent of scientific citation, the impact of the individual's findings, particularly on clinical practice and or public policy," said Jarrell, adding that "research is an important part of our strategic plan."
George called Chung "a dentist-scientist who has dedicated his career to studying the neurobiological mechanisms of craniofacial pain, focusing on the roles of trigeminal nociceptors."
He said that Chung's recent interest in neuroregulation of alveolar bone remodeling has been recognized by the National Institute of Dental and Craniofacial Research with an eight-year, $8 million R35 award.
"During the 14 years since being appointed to the faculty, Dr. Chung has served as a principal investigator on 10 projects funded by the government or industry for a total of $17.4 million," said George, also praising Chung for his work as an educator.
"In addition to being an accomplished scientist, Dr. Chung is an extraordinary educator, serving as a mentor for numerous students of diverse backgrounds and in varying stages of their careers. He has demonstrated a strong commitment to academic citizenship both within the School of Dentistry and UMB community at large."
Chung then opened his 45-minute presentation, titled "Trigeminal Nociceptors: Neural Intersection of Chronic Pain and Alveolar Bone Remodeling," with jarring statistics: 20 percent of adults in the United States suffer from chronic pain and 16 percent of patients visiting dentist offices had orofacial pain in the past year.
"The opioid epidemic is a big problem in the United States, and developing nonaddictive and nonopioid treatments for chronic pain is immediately necessary," said Chung, who also serves as co-director of the UMB Center to Advance Chronic Pain Research.
Chung went on to discuss how he became interested in studying capsaicin, an ingredient of the spicy pepper that not only causes a burning pain but also can be used as an analgesic, outlining a case in which a patient's molar was extracted and pain was decreased to half with use of an 8 percent capsaicin patch every three months. However, the mechanisms of how capsaicin is effective as an analgesic are not well known and have been a focus of Chung's research.
Chung also is researching how transient receptor potential vanilloid 1 (TRPV1), a receptor for capsaicin, afferents modulate the remodeling of alveolar bone under pathophysiological conditions such as periodontitis and orthodontic tooth movement.
"In all these experiments, we have been using this pepper as a very important tool to navigate the study of the mechanisms as well as it being a therapeutically useful tool that we suggest," he said.