Anmar Janabi, BDS, MSD, a second-year endodontics resident at the University of Maryland School of Dentistry, has invented a smart assistant device, patent-pending, that would help dentists single-handedly suction patients.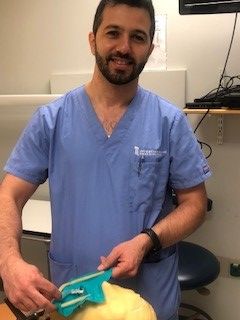 "One of the challenges a clinician may face is the unavailability of dental assistants, whether they need to step away or because the office is understaffed," Janabi says. "This creates extra work for the clinician and can be frustrating, time-consuming, and even unsafe, especially when suction is needed to remove caustic materials used for root canal irrigation."
Janabi crafted two different device formats, both sterilizable and reusable, or disposable. One is metal, the Smart Evacuator; the other is plastic, the Smart Hook. Both provide evacuation of water coolant and caustic irrigants during endodontic treatment procedures such as restorations and root canals.
Everyday experience prompted the idea.
"Residents and dental students often have to multitask without a dental assistant," Janabi says. "This is a major concern in all academic programs in the U.S. It's good for students and residents because we don't have an assistant to help us all the time. There simply aren't enough assistants for each resident."
"One hundred percent of root canals need a rubber dam to collect water," he notes, "and 10 to 30 percent of restorations, depending on the clinician's preference."
The concept met with fascination at the recent American Association of Endodontists (AAE) annual meeting, where Janabi was recognized for a presentation in its table clinics division. AAE provided awards to the 10 highest-scoring endodontics postgraduate presenters in each category. Janabi placed fourth in his division.
With his new patent-pending device, Janabi is making a name for himself — and potentially making life easier for his fellow residents.
---
Correction (Feb. 18, 2020): This article has been corrected to note that the patent is pending and has not yet been issued.