Dr. Jin Y. Ro, MA, PhD, professor in the University of Maryland School of Dentistry (UMSOD) Department of Neural and Pain Sciences, received a two-year, $425,000 R21 federal grant earlier this fall on the heels of the five-year, $1.8 million R01 grant renewal he received in April.
Both grants are through the National Institute of Dental and Craniofacial Research and focus on unraveling the neurobiological mechanisms that contribute to chronic oral and facial pain.
In his R01 grant, Ro hypothesizes that the environment of cells within a muscle under inflammation or stress may exert non-genetic influences, causing changes to DNA. These epigenetic alterations could cause an increase in expression of pain genes in the trigeminal ganglia, the collection of cells responsible for sensation in the face. Ro will use an innovative epigenome editing tool to modulate DNA methylation (the process in which molecules are added to a DNA sequence, changing the activity of the gene).
"Up until now, there wasn't" a tool to study epigenetic influences on a specific gene, to figure out what gene contributed to what," Ro says. "With CRISPR-dCAS9 [the editing tool], however, you can target one individual gene."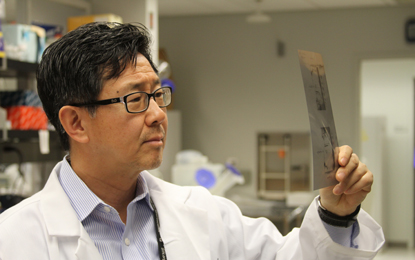 Ro's R21 grant continues his research into gender-related differences in chronic oral and craniofacial pain. Compared to men, women are disproportionately affected by these conditions and have a higher chance of such conditions becoming chronic. Studies have shown that insufficient endogenous pain modulation — essentially, the central nervous system's inability to control pain — is related to chronic pain conditions, and women typically have less effective pain modulation. However, the reasons for such gender differences are not yet understood. Under the grant, Ro's lab will study androgen receptors — which allow cells to receive signals from male hormones — and the sex-determining region Y, a male-specific gene.
The results of his research could impact more than just oral and craniofacial pain conditions, too.
"The mechanisms that we uncover from our project can be translated into other conditions that show gender differences," Ro says.
Now in his 20th year at UMSOD, these latest grants will allow Ro to continue his important research into the causes of chronic oral and facial pain — welcome news, no doubt, for those suffering from more than your average toothache.