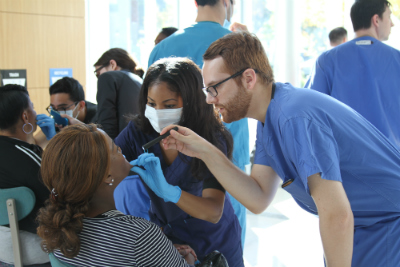 On Saturday, November 5, University of Maryland School of Dentistry residents and students gave free oral cancer screenings to attendees at the 12th Annual Pythias A. and Virginia I. Jones African American Community Forum on Memory Loss at Coppin State University in Baltimore, MD.
Representatives from both the Oral Maxillofacial Surgery Society (OMFS) and the Student National Dental Association (SNDA) collaborated to screen 54 attendees. The choice of event and venue gave volunteers a higher likelihood for screening at-risk patients.
"A major tenant of the SNDA is to promote health and wellness in the Baltimore community," said Taylor Cole DDS '18, Vice President of the SNDA, "so this is a great opportunity to conduct outreach."
The forum – which attracted primarily an older African American population – produced a steady stream of visitors to the School of Dentistry screening area during session breaks. Oral cancer occurs twice as often in the African-American population as in Caucasians. About 95 percent of oral cancer occurs in people over 40 years of age, and the average age of diagnosis is 60 years old.
"The audience here is very interested in healthcare," said Michael Powers, DDS '17, "so they are more enthusiastic about being screened than people might be in other settings."
Oral cancer screening requires a relatively simple set-up. No dental chairs or special equipment is needed; just a regular chair, a mini-flashlight, and two SOD students for each patient screened. Robert A. Ord, DDS, MD, MBA, FRCS, FACS, Professor and Chair in the Department of Oral-Maxillofacial Surgery, served as the faculty supervisor.
"When we conduct screenings, we start with the neck and look for any enlarged lymph nodes," said Ord, "then we examine all the mucous membranes in the mouth looking for white patches, red patches, or ulcers, paying particular attention to the tongue."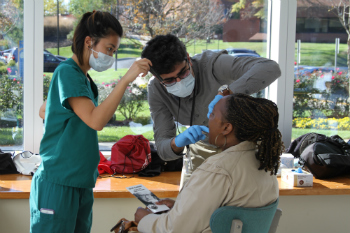 This collaboration between the OMFS and SNDA allowed both organizations to utilize their respective strengths to effectively treat patients. The OMFS provides knowledge and expertise for screenings, while the SNDA is renowned for its impactful outreach efforts in the Baltimore community.
‌The School of Dentistry SNDA chapter won Chapter of the Year Award for the "large" category of institutions during the National Dental Association annual conference held in Atlanta, Georgia, this past summer. A major factor in winning this award was the success of the SNDA's signature event – the Oral Cancer Walk – which again featured a collaboration between the SNDA and OMFS. The event had more than 200 participants and raised $23,796 for the Oral Cancer Foundation. During the walk there were live musical performances, raffles, a children's corner, and free oral cancer screenings provided by OMFS volunteers.
The OMFS's signature event is on Maryland Day, which will be held March 25 In College Park. The organization expects to screen hundreds of attendees during the festivities.