Paul G. Corcoran's journey to dentistry began as a paperboy.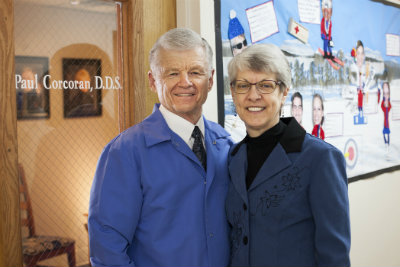 Before he graduated from the University of Maryland School of Dentistry (UMSOD) in 1975, and before he attended College Park as an undergrad, Corcoran delivered the Washington Post while he was a teenager growing up in Rockville, MD. While working his route, he got to know two dentists who served as mentors to him.
"They kind of adopted me and introduced me to the field," he reflects.
The oldest of seven children in a working-class family, Corcoran began shoveling snow and mowing lawns for one of these dentists for extra work. One Saturday, while the dentist was home, a boy in the neighborhood was hit with a baseball. The dentist took this boy in, and Corcoran was recruited to be an impromptu assistant.
"On a 1-10 pain scale, this kid was at a '10,' and in 10 minutes, he was at a 'one'" Corcoran said, "so I got this impression of dentistry serving others and serving humanity through him."
Corcoran's other mentor worked at Walter Reed Hospital. One day Corcoran visited his study and saw a stack of papers on his desk. A GI had been in a jeep accident and had broken his jaw, nose and four teeth, and this dentist's job was to replace the teeth.
"Being a stupid 15 year old, I asked him what he was doing; he went into great detail about what he was going to do, and asked whether I wanted to watch him do it," he said.
Corcoran ended up accompanying this dentist to Walter Reed once a week for six straight weeks.
This eagerness to learn and absorb the instruction of others has buoyed Corcoran throughout his life and career. By his own admission, Corcoran was not the best student, but his determination to get better – and his willingness to seek help from those would offer it – effectively pushed him through undergraduate education at College Park and the School of Dentistry, despite being academically dismissed from UMSOD after his first year.
In particular, Corcoran was able get help from Jeff Cooper, DDS '72, who was his fraternity brother at College Park and – by pure coincidence – his lab partner in Dental School. Cooper's continued assistance aided Corcoran in reapplying to UMSOD and successfully adapting to the academic rigors of the school..
"Jeff was a superstar student at College Park and dental school, and he got me through college and dental school in spite of myself," Corcoran said, "it was one of the most selfless things I have ever seen."
After dental school, Corcoran worked in two associateships and then moved to Vail, Colorado to start his private practice, primarily because he fell in love with the state during a previous visit.
"I had a fantasy about Colorado, so I closed my eyes and jumped, and it turned out to be a fabulous decision," he said.
Corcoran has lived in Vail with his wife Jean for 36 years running a private practice. While he has thrived in Vail, he has also dedicated a major part of his work to serving others through the Dentistry from the Heart program. This program offers adults a free day of dentistry in his office annually in October.
Corcoran and his wife started Dentistry from the Heart eight years ago as a result of his cumulative experience seeing patients in the ER with extreme dental needs for several decades. Corcoran felt compelled to do something about it, and his work has been recognized by the community: Vail Valley magazine published a profile on Corcoran and Dentistry from the Heart in its October issue.
"We open the office to whoever wants to come in. We do one procedure per person, a cleaning or a filling or tooth extraction. In a lot of ways that's the best day of the year," said Corcoran in the Vail Valley issue.
Corcoran has extended his generosity to the University of Maryland School of Dentistry as well. Paul and Jean have established the Dr. and Mrs. Paul Corcoran and Dr. and Mrs. Jeff Cooper Scholarship Endowment Fund to provide support to UMSOD students who are facing academic or personal challenges. The fund is a fitting tribute to Dr. Cooper's selflessness and generosity, as well as testament to the bond the two have maintained over the years.
"Paul's accomplishments have made me very proud," says Cooper in a 2014 issue of Mdental Magazine, "he worked hard for his degree. I take great pleasure in seeing him succeed."