Martha Somerman, DDS, PhD, remembers the supportive environment when she was a faculty member at the University of Maryland School of Dentistry (UMSOD).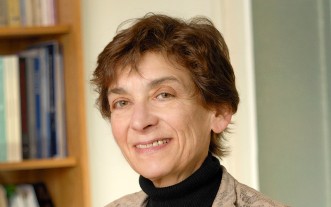 "There were excellent students, committed faculty, and a great department chair," said Somerman, who was an associate/assistant professor in periodontics and pharmacology from 1984 to 1991. "The supportive environment served as the place that launched my career. I owe many thanks to the University of Maryland School of Dentistry."
Somerman went on to become a professor and department chair at the University of Michigan School of Dentistry and dean of the University of Washington School of Dentistry before being named director of the National Institute of Dental and Craniofacial Research (NIDCR). For more than 40 years, her contributions to research and learning have driven the advancement of oral care in the context of overall health and inspired multiple generations of scientists.
Now the University of Maryland, Baltimore (UMB) will honor Somerman for her many accomplishments with an Honorary Doctor of Science degree at its commencement May 18.
"During her tenure as NIDCR director, Dr. Somerman's vision and oversight played a critical role in guiding clinical researchers as they delved into complex issues related to dental, oral, and craniofacial health and diseases, seeking pioneering methods of diagnosing and treating these diseases," said UMSOD Dean Mark A. Reynolds, DDS, PhD, MA.
"Her leadership, expertise, and mentorship as a clinician-scientist have advanced our understanding of dental, oral, and craniofacial diseases and led to novel discoveries and methods of treatment significantly improving the overall health of many."
Somerman was the first woman to lead NIDCR, whose focus is defining basic biomedical and behavioral mechanisms underlying health, diseases, and disorders of the dental, oral, and craniofacial complex, and applying the knowledge gained toward informing the health care community. She oversaw a budget of $400 million, led a staff of more than 400 researchers and administrators on the National Institute of Health's (NIH) campus, and supported research projects of hundreds of grantees at universities, medical schools, dental schools, small businesses, and other research institutions.
There, her accomplishments included launching NIDCR 2030, which envisions a future where dental, oral, and craniofacial health and disease are understood in the context of the whole body; spearheading a new research focus on autotherapies, prevention and treatment tactics that take advantage of the body's innate ability to repair and regenerate damaged or diseased tissues; and starting the NIDCR Director's Postdoctoral Fellowship to Enhance Diversity in Dental, Oral, and Craniofacial Research to train the next generation of oral health researchers.
"Throughout her career, Martha has been a leader in defining factors that modulate formation of dental, oral, and craniofacial tissues, and applying that knowledge to designing evidence-based, predictable, targeted therapies to regenerate damaged or diseased tissue," Francis S. Collins, MD, PhD, then-NIH director, wrote in announcing her retirement as NIDCR director in 2019 after almost nine years. "Martha has made it a priority to improve the oral health of the nation through her commitment to overcoming health inequity and advancing public health initiatives."
Somerman said the second half of her tenure focused on the institute becoming a catalyst for driving discoveries, transforming research knowledge, expanding collaborations outside of the field, and encouraging the next generations of health care students.
"We must be advocates, not just isolated in our own worlds," said Somerman, recalling a health care research day as dean at the University of Washington when a dad and daughter passed her booth. "He stated to her, 'Not much exciting research in this area.' I gently pulled them back and they listened intently. I hope I made a difference."
She remained senior advisor to NIDCR and chief of the Laboratory of Oral Connective Tissue Biology at the National Institute of Arthritis and Musculoskeletal and Skin Diseases until retiring in 2021. She also was a senior clinical advisor at the NIH Clinical Center. Her clinical research investigates how rare conditions associated with altered inflammatory responses and disruptive mineralized tissue function affect the periodontium.
She still serves with the NIDCR and NIH as a special volunteer. "NIH/NIDCR is an amazing environment, and I feel privileged and humbled to have been a contributor to vital and critical projects we promote toward advancing the quality of health for the communities we serve," she said.
Somerman's commitment to research and education has resulted in prestigious opportunities for numerous students under her mentorship, with many of her mentees in leadership roles around the world.
"Your generous mentorship has produced a talented and diverse cadre of scientists who are transforming the workforce and future of dental science," then-American Dental Association President Daniel J. Klemmedson, DDS, MD, said in 2021 when Somerman became the first woman to receive the organization's Gold Medal Award for Excellence in Dental Research.
Her other honors include the inaugural International Association for Dental Research (IADR)/Straumann Award in Regenerative Periodontal Medicine in 2010; the Distinguished Scientist Award from the American Association of Periodontology in 2016; the American Association of Dental Research (AADR) Jack Hein Public Service Award in 2021; and the American Association for Dental, Oral, and Craniofacial Research Presidential Citation in 2022.
Somerman currently chairs an advisory committee at UMSOD and serves as field chief editor for Frontiers in Dental Medicine (FDEM), whose mission is to advance the interdisciplinary research addressing how oral health and disease can be understood within the context of the whole body. She has initiated a grand challenge and special research topic focused on the value of advancing integration of medicine and dentistry, from basic research to clinical care to policy statements. In 2021, in accordance with her mission for FDEM, she, along with colleagues, published an eBook, "Integrating Oral and Systemic Health: Innovations in Transdisciplinary Science, Health Care and Policy."
Working for the journal "follows my passion and commitment to a whole-body systems approach to health, where oral health is considered a part of total health and dentistry is not practiced as a silo profession, both clinically and on the research side," Somerman said.