Over 140 University of Maryland School of Dentistry (UMSOD) graduates proudly pledged themselves to the service of humanity – their patients, their community, and their colleagues during the Honors Convocation ceremony held at the Hippodrome Theatre on May 19, 2023.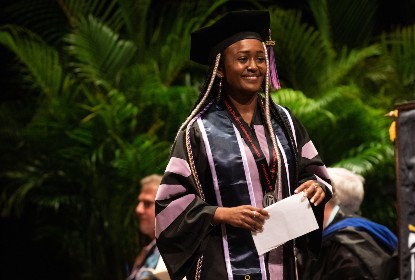 The convocation oath issued by Patricia E. Meehan, DDS, BSN, associate dean for academic affairs, serves as a promise that graduates from the world's first dental college will uphold the highest standards of care for their patients and their profession.
In remarks to the Class of 2023, Wongelawit Deldil Tadesse, DDS '23, president, dental class 2023, reminded her classmates that the future is bright for both graduates and their future patients. "You should all be proud of what you've accomplished thus far," she said, "and as you take this next step into residency or to work remember to value community, to choose humility, and to always keep the patients first."
The Class of 2023 represents an increasingly diverse student body dedicated to eliminating barriers to oral health care. Among the graduates, more than 20 languages – including Arabic, Farsi, French, Greek, Gujarati, Hebrew, Hindi, Igbo, Italian, Urdu, and Vietnamese -- are spoken. Class members are split evenly between men and women; about 17 percent are members of underrepresented minority populations.
Suzanne Burgee, RDH, BS, MS, clinical instructor, academic program director of the Dental Hygiene Program, praised the hygiene graduates' dedication to providing patients an environment free from fear, stigma, and bias; particularly for patients with intellectual disabilities, from undocumented communities, and underserved pregnant and postpartum individuals.
"To all of our graduates: You are a team of highly skilled professionals who demonstrate the intelligence, compassion, and determination that it takes to address the oral health disparities that plague urban and rural communities," she said. "As you embark on the various opportunities that await you, remember to work together, practice ethically and equitably, and protect your boundaries personally and professionally."
Mark A. Reynolds, DDS '86, PhD, UMSOD dean and professor, expressed his confidence in the graduates and their pursuit of excellence in the field of oral health care. "On behalf of the faculty and staff of the first dental college in the world, I congratulate each of our graduates. We are exceedingly proud to celebrate this day with you," he said.
"We are confident that through your continued leadership, clinical care, and public service, you will be instrumental in addressing disparities and inequities and advancing discovery-based care in developing medical partnerships that ensure oral health is a part of overall health care and in promoting the health of our communities."
Melvin F. Kushner, DDS '66, chair of the UMSOD Board of Visitors, welcomed the graduates to the professional world and offered parting advice for the newly minted graduates. "If there was a gift I could give you, it would be that each of you have the happiness and professional satisfaction in your own lives that the school has brought to me and my family. I'm very proud to be an alumnus of this school with its rich heritage and reputation, and I'd like to welcome you to the professional community."