Two University of Maryland School of Dentistry (UMSOD) students were invited to attend a follow-up — and possibly final — round of interviews for the Dean's Scholarship for Leadership & Excellence.
At least, that's what they were told.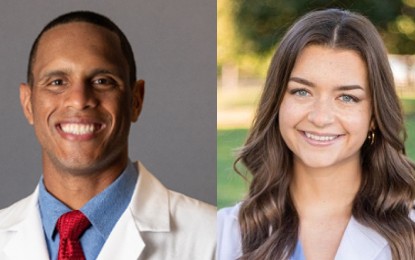 Fourth-year dental student Justin Maxwell and third-year dental student Kelly A. O'Keefe instead found themselves in a meeting during which they were surprised by Mark A. Reynolds, DDS '86, PhD, UMSOD dean and professor, who congratulated each of them not as finalists but as winners of the $25,000 scholarships.
"Dental education is recognized as being among the most expensive health professions to complete," Reynolds said. "With this scholarship, we hope to support students so that they can achieve academic excellence while continuing to immerse themselves in opportunities to enrich their professional development."
As part of the surprise presentation March 29, the students were invited to meet separately for what they thought would be their last application interview. Maxwell attended in person; O'Keefe attended virtually. Each was met by a panel that included Melvin F. Kushner, DDS '66, chair of the UMSOD Board of Visitors; Charles A. Doring, DDS '87, MAGD, chair of the Catalyst Campaign for UMSOD and a Dean's Faculty member; Janet Wiley, assistant dean of development and alumni relations; and other members of the UMSOD Scholarship Committee.
A few moments into each meeting, the dean, carrying an oversized check, made a surprise entrance and announced the good news.
To Maxwell and O'Keefe in turn, Reynolds said: "You are highly deserving because of your academic excellence, dedication, and leadership. We fully appreciate the tremendous effort and commitment that it takes to excel as a dental student. We are exceedingly proud of you, and we look forward to all that you will accomplish."
Designed to recognize students who succeed in the classroom and the clinic, demonstrate promise as leaders, and aspire to continue in public service, the Dean's Scholarship for Leadership & Excellence is made possible primarily by UMSOD's Socks for Scholarships fundraising campaign. As part of the initiative, donors who make a minimum gift or pledge of $100 receive a pair of UMSOD-themed socks as a thank-you.
Since its creation during fiscal year 2020, Socks for Scholarships has raised nearly $157,000 from 448 donors. Thus far this year, 212 alumni and friends have donated more than $35,000.
Noting that one of the school's fundraising priorities is to increase scholarship support, Wiley said, "I am thrilled that we're able to offer these students meaningful scholarship support. Kelly and Justin are very impressive students and leaders. I wholeheartedly congratulate them."
Introducing Justin Maxwell
For Maxwell, who will graduate in May, dentistry represents a second career. After graduating from the University of Maryland, College Park with a bachelor's degree in animal science, the father of three played minor and major league baseball from 2006-16 on teams including the Washington Nationals, Houston Astros, Kansas City Royals, and San Francisco Giants. As a dental student, he also worked as a sports broadcaster for the Mid-Atlantic Sports Network and Fox 5 DC.
Throughout his professional baseball career, he volunteered during many summers at youth baseball clinics and as a basketball coach for youth teams. At UMSOD, he is a member of the Student National Dental Association, American Student Dental Association, Alpha Omega International Student Society, Honor Society of Phi Kappa Phi, and Gorgas Odontological Honorary Society, among others. After graduation, Maxwell plans to enter private practice in Frederick County, Md.
Expressing his gratitude for the scholarship, Maxwell noted that his accomplishments at UMSOD have been greatly aided by the support of his fellow students. "I honestly feel that for me, [my success] has a lot to do with all the feedback I got from classmates and recent graduates."
Referring to the fact that each class traditionally wears scrubs in a particular hue, he said, "That is one of the things I love about Maryland: That it doesn't matter what color scrubs you wear, everyone is willing to help you."
Introducing Kelly A. O'Keefe
When told she had received the Dean's Scholarship in Leadership & Excellence, O'Keefe expressed her surprise and added, "I'm honored and so grateful to receive this scholarship. My classmates set the bar really high in terms of excellence and leadership, and I'm lucky to be surrounded by people who encourage and motivate me every day. Thank you so much."
After graduating in 2023, O'Keefe plans to complete an Advanced Education in General Dentistry program while serving in the U.S. Air Force. She is a graduate of Wake Forest University, which she attended on a dance scholarship and where she majored in biology and minored in chemistry and dance. Before beginning college, she considered dancing professionally and, in fact, turned down a scholarship to the Rockette Summer Intensive, a demanding, invitation-only training program held at Radio City Music Hall that paves the way for a possible future as a Rockette.
At UMSOD, O'Keefe is vice president of the Class of 2023 and president of the Tau Sigma Chi Military Dentistry Society. A University of Maryland, Baltimore President's Student Leadership Institute scholar and a UMSOD admissions committee student host and interviewer, she also is a member of the Gorgas Odontological Honorary Society, Gamma Pi Delta Honor Society, Academy of General Dentistry, and the American Association of Women Dentists.
Although undecided about whether to spend her career in the U.S. Air Force or eventually pursue private practice, her experiences at UMSOD have piqued her interest in academia.
"Having the support of the faculty members has really shown me how much I would like to give back in the same way," O'Keefe said. "I would love to be a faculty member here so I can help students the way that the faculty members have helped me."