For many pregnant people in Maryland and many who recently gave birth, the state passed a law last year that is important for their health: Maryland expanded dental coverage for pregnant individuals on Medicaid to a full year after delivery. That coverage became effective in April 2022.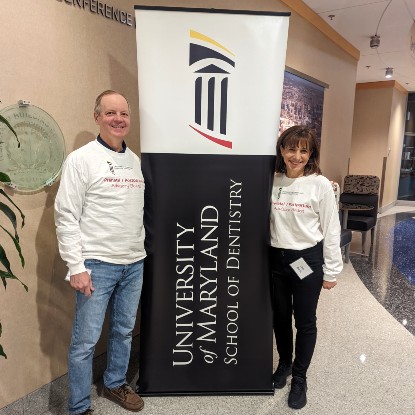 Now, faculty at the University of Maryland School of Dentistry (UMSOD) have taken a significant step toward advancing this state policy by convening the first meeting of an advisory group of community members and oral health experts who are working to break through access-to-care barriers that exist for thousands of mothers and their children.
"This is such a nontypical advisory group, and we're employing a completely different approach from the norm," said principal investigator Lisa Bress, RDH, MS, clinical associate professor in UMSOD's Division of Dental Hygiene.
"Our goal is to develop a practical blueprint to address oral health disparities among low-income mothers. And what is crucial is that we're engaging people with lived experience and discussing the impact of race, ethnicity, and equity on oral health care. That's never been a part of the equation before, and it's a powerful part of the story."
The UMB Prenatal Postpartum Advisory Board (PPAB), which held its first meeting in April, includes four mothers who are on Medicaid and represent people who benefit from the program, prenatal health providers, and experts from UMSOD and the University of Maryland schools of medicine and social work.
The PPAB project is sponsored by the CareQuest Institute for Oral Health and Colgate Oral Pharmaceuticals, Inc., which have provided $157,000 in grants. Bress and co-principal investigator Thomas W. Oates, DMD, PhD, professor and chair of UMSOD's Department of Advanced Oral Sciences and Therapeutics, lead the project.
The inclusion of pregnant and postpartum mothers who have struggled to navigate the oral health care system brings firsthand experience of oral health inequities. "I have a toothache right now, my baby is 3 months old, and I didn't know I had dental coverage while I was pregnant. Can you help me?" said one of the mothers, reflecting a common need.
Dentists and hygienists on the panel offer their perspectives on care and their knowledge of financial and regulatory challenges. Additionally, Holly Hayes, president of ISI Consulting, a facilitation and health equity coaching firm, was on hand with her staff to help transform the diverse group into a results-oriented team.
"I can honestly say that this was one of the best meetings I've ever attended, and I have attended a lot of meetings," said Katy Battani, BSDH '02, MSDH '08, a member of UMSOD's Alumni Association Board of Directors and a project manager for the National Maternal and Child Oral Health Resource Center at Georgetown University. "It accomplished the goal of connection between and among the diverse mix of board members. Relationships were built, and I know they will continue to be deepened."
In pregnant women, poor oral health has been associated with premature births and low birth weight. People who lack insurance coverage for dental care may instead seek treatment in hospital emergency departments when dental problems cause pain. But most emergency medicine departments do not have oral health clinicians regularly available.
In Maryland, oral health coverage for postpartum women on Medicaid became available April 1, 2022. The state legislature also passed a law that requires Maryland Medicaid to cover adult dental services, including restorative and periodontal services.
"Our aim is to develop strategic ways of targeting and educating underserved mothers and health care providers inside and outside dentistry in ways that lead to improved oral health through Maryland's expanded Medicaid dental coverage window for pregnant and postpartum women," Bress said.