Jose A. Bosio, BDS, MS, the inaugural recipient of the Alumni and Friends Professorship in Orthodontics at the University of Maryland School of Dentistry (UMSOD), was honored May 11, 2021, at a virtual investiture ceremony.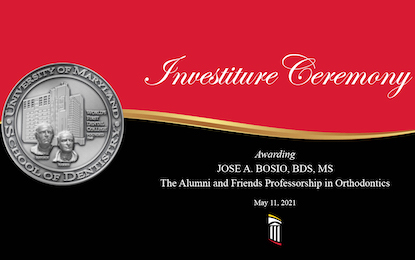 Established by a group of UMSOD's alumni and supporters, the endowed professorship will enable the Division of Orthodontics to recruit and retain a leading educator and clinician. Through its support of Dr. Bosio's work, it will enhance advances in scholarship, education, and clinical care.
"I am delighted that many of our alumni and friends joined me and others in support of our orthodontics program," said Edgar Sweren, DDS '54, a member of UMSOD's Dean's Faculty, who led the effort to create the professorship.
"With the establishment of the Alumni and Friends Professorship in Orthodontics, we are creating a leadership position that will forever enhance and extend our goals in education, patient care, and research."
Dr. Sweren added: "The appointment of the first person to hold our endowed professorship is my dear friend, a stellar orthodontist, caring teacher, and a model of outstanding departmental leadership: Jose Bosio, who has my most heartfelt congratulations and fervent support!"
Dr. Bosio is chief and postgraduate program director of UMSOD's Division of Orthodontics, where he also is a clinical associate professor. He received a postgraduate certificate from the Eastman Institute of Oral Health's TMJ Program in 1993 and a Master of Science degree and certificate in Orthodontics from Ohio State University in 1996. He is certified by the American Board of Orthodontics (ABO) and the Brazilian Board of Orthodontics and Facial Orthopedics.
Dr. Bosio received the 2011 American Association of Orthodontists' (AAO) Thomas M. Graber Award of Special Merit. In addition, Dr. Bosio has received multiple teaching fellowship awards from the AAO (2008, 2009, and 2010) and the AAO Foundation (2011 and 2012). Since 2010, Dr. Bosio has served as an ABO examiner. He chaired the 2014 Great Lakes Association of Orthodontists/Midwestern Society of Orthodontists Annual Science Session and has served as president of the Society of Orthodontic Educators and as a reviewer for the American Journal of Orthodontics, Dentofacial Orthopedics, European Journal of Orthodontics, Journal of the World Federation of Orthodontists, and The Angle Orthodontist.
During the virtual ceremony, Dr. Bosio thanked his family as well as his mentors, who include Mark A. Reynolds, DDS '86, PhD, UMSOD's dean and professor; Vineet Dhar, BDS, MDS, PhD, clinical professor and chair of UMSOD's Department of Orthodontics and Pediatric Dentistry; and Philip Markin, DDS '66, MS, clinical assistant instructor, Dean's Faculty.
Dr. Bosio also spoke of his deep appreciation for those whose generosity established the professorship. "I want to express my gratitude to each and every one of the people who contributed to the professorship," he said. "I am very grateful."
The investiture ceremony reflects the role played by endowed professorships in providing preeminent faculty members with the resources critical to their continued success. The named recipients are honored with a special medal in recognition of their accomplishments. The front of the medal features an etching of the School of Dentistry building and images of Horace H. Hayden and Chapin A. Harris, who in 1840 founded the school — the first dental college in the world.
The back of the medal lists the name of the endowed professorship as well as a description of the school's purpose: Advancing Oral Health. Improving Lives.
Noting that endowed professorships greatly enhance the education of the school's dental and dental hygiene students as well as sustain scholarship, support discovery, and help improve patient care in a chosen area of expertise, Dr. Reynolds thanked the donors for their generosity.
"Such a gift is one of the most enduring contributions that can be made to an academic institution — to endow a professorship is truly to create an enduring legacy of excellence and impact," he said.
To view the virtual investiture program, please visit www.dental.umaryland.edu/orthodontics/orthodontics/about-us/Dr-Jose-Bosio-Investiture-Ceremony/