Whether traveling to Ecuador to offer dental treatment to underserved children, editing scholarly journals, synthesizing evidence-based research, or teaching at the University of Maryland School of Dentistry (UMSOD), Norman Tinanoff, DDS '71, MS, employs a fairly simple professional philosophy: Persist.
"If there's an area of research I'm interested in, I will explore it until I am satisfied," says the professor in UMSOD's Division of Pediatric Dentistry. "If there is a policy to be considered, I stay focused on that. I never give up. I just persist."
That approach has served both oral health professor and his profession well. Tinanoff is the 2019 recipient of the American Academy of Pediatric Dentistry's (AAPD) Merle C. Hunter Leadership Award. The prestigious, annual award was presented on May 25 at the AAPD General Assembly in Chicago.
Although the award specifically recognizes an AAPD volunteer who has provided exemplary leadership service to the organization during the previous year, Tinanoff's involvement with the national organization began long ago.
He has served on the editorial board of the Journal of Pediatric Dentistry, focusing on dental caries mechanisms, early childhood caries, and fluoride, since the publication's inception four decades ago; as section editor since 2015; and as acting editor for the past year (while heading the search for an editor).
Additionally, Tinanoff long has been an active member of the AAPD's Council on Clinical Affairs, which develops best practice guidelines for pediatric dentists and oral health professionals in general and publishes an official reference manual, Oral Health Policies and Best Practices. The UMSOD professor has been lead author of 12 of the 80 standing policies for topics such as fluoride therapy. Most recently, he took the lead on the 2019 revisions of caries risk assessment and management.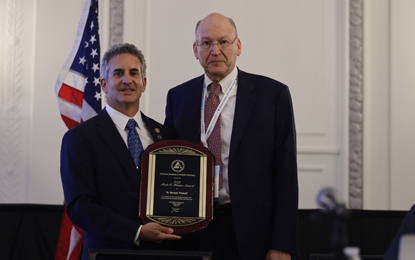 Tinanoff has been the recipient of other honors, including the 2015 University of Maryland Public Service Award, which recognized his instrumental role in the creation of legislation that significantly improved the oral health of children in Maryland. In the early 2000s, he and other health care advocates developed and advocated nine Maryland bills that eventually were passed and successfully expanded access to oral health care.
"Over the span of his distinguished career, Dr. Tinanoff has made countless contributions to the specialty of pediatric dentistry in the areas of leadership, research, education, and service," said Vineet Dhar, BDS, MDS, PhD, clinical professor and chair of UMSOD's Department of Orthodontics & Pediatric Dentistry and graduate program director.
"It is his leadership that has put the Pediatric Dentistry Program at University of Maryland on the world map as one of the top programs. It is not a surprise that he is a role model for many pediatric dentists worldwide."
In the coming months, in addition to continuing his AAPD roles, among others, Tinanoff looks forward to his work as associate editor of the 2020 Surgeon General's Report, which will document progress in oral health since the first Surgeon General's Report on oral health was published two decades ago.
He also has travel on his mind: In 2007, a trip to Vietnam to bring oral health care to children inspired a longtime commitment to "making a small difference in communities in other countries," he says.
For several years, Tinanoff has journeyed to South America in collaboration with Ecuadent Foundation, a nonprofit based in Cockeysville, Md., to treat underserved children. In February, for example, he and UMSOD colleagues spent 10 days in Salinas, Ecuador, each treating about 20 young patients a day. Next year, the professor hopes to bring UMSOD pre-doctoral students along. Although pre-doctoral students cannot treat patients in Ecuador, he says, they may assist, learn, and, perhaps, be inspired.