The privation experienced by Casimir Pawlak more than a half century ago has inspired his granddaughter, Kathryn Pawlak, DDS '19, to heights celebrated at the University of Maryland, Baltimore (UMB) during Commencement 2019. She was lauded in particular for bringing a lasting awareness of the importance of oral health to the UMB CURE Scholars Program.
During graduation festivities at the Hippodrome Theatre on May 17, Pawlak was surrounded by her extended family, including all three sons of that Polish-American youth who spent his boyhood in a Nazi concentration camp. He was a citizen of the United States whose parents had returned to Poland during the Great Depression. As an American, his daily food ration was meager but sufficient to keep him from starving.
Many years later, his granddaughter became fascinated by the dentures he had needed after poor nutrition ruined his teeth. "His tragic story reinforced my desire to improve the oral health of children," she said. After earning her Doctor of Dental Surgery degree at the University of Maryland School of Dentistry (UMSOD), she will begin a residency in Buffalo, N.Y., in pediatric dentistry.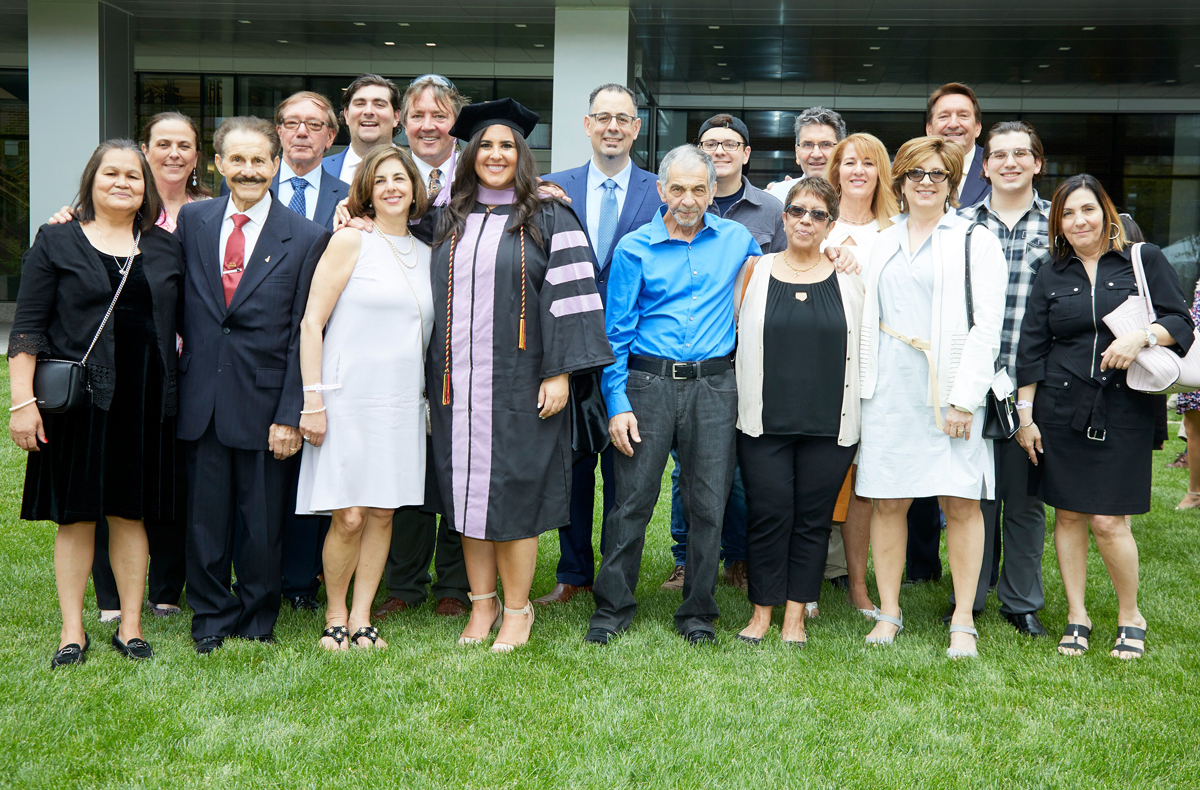 "It all started at a young age. She fell in love with her dziadziu [jah-goo or grandfather]," said her father, Gary Pawlak. "Today it is so touching to think about that, and how she always talked about it."
Kathryn Pawlak started the nonprofit Planet Smilez, Inc., as an undergraduate student at Hobart and William Smith Colleges to teach children from underserved communities about nutrition, oral cancer prevention, and the importance of oral hygiene. At UMSOD, she started a Baltimore chapter of Planet Smilez and later partnered with the Port Discovery Children's Museum's First Saturday program to teach toddlers proper brushing and flossing habits.
Every year since 2016, Pawlak has organized a summer camp for the UMB CURE Scholars Program, an intensive mentoring initiative that prepares middle and high school students from under-represented minority communities in West Baltimore for careers in health care and science.
(View a video below about its impact.)
Pawlak received the Dean's Award for Outstanding Community Service. Mark A. Reynolds, DDS, PhD, MA, dean and professor of UMSOD, describes Pawlak as "truly a role model," noting that she arrived as a first-year dental student with a passion for inspiring and educating youths about the oral health professions.
"Kathryn exemplifies what can be accomplished with compassion, concern for and commitment to others' well-being. She saw a need in our community and took action," he says. "She took the initiative to launch the nonprofit Planet Smilez, which has offered middle school students innovative and fun opportunities to learn about careers in oral health care."
She received the UMB CURE Scholars Program Champion Award in December 2016.
Lauren Kareem, MEd, educational consultant for UMB CURE, said, "One of the most exciting aspects of the CURE Scholars Program has been the opportunity for mentors to play active roles in introducing scholars to careers in science and health care. Each year, more of our scholars identify dentistry as their career of interest and this is no doubt due to Dr. Pawlak and her contributions."
Kareem noted that in addition to the summer camp, Pawlak started an Oral Health Promotion event that will continue to be held by UMSOD for CURE Scholars and their families on one Saturday each winter. "We are all so incredibly fortunate to have benefited from Dr. Pawlak's community work here at UMB and wish her the best as she moves onward to her career in dentistry," she said.
Several honors were bestowed upon Pawlak this May, including the Delta Dental Community Care Foundation Student Leadership Award and the school's Department of Pediatric Dentistry Humanitarian Award, which is sponsored by the Maryland Society of Dentistry for Children.
Pawlak has received scholarships in recognition of her community service work. For example, last fall she received the Crest Oral-B Scholarship from the Hispanic Dental Association and became the 2018 winner of the Dental Trade Alliance Scholarship. Both are awarded to students who show a superior commitment to community service.
Pawlak's work with the CURE Scholars is a continuation of the outreach she conducted while at Hobart and William Smith. As a junior undergraduate, she was awarded a Presidential Leadership Grant to develop an international mission trip to Ojo de Agua, Salcedo, Dominican Republic. With the help of mentor Deborah Pilla, DDS, Pawlak devised a curriculum to teach 90 children ages 2 to 12 the importance of dental health practices. Her program included home visits to children and their families.
In 2018, Pawlak took this same program to Point Fortin, Trinidad and Tobago. This program included completing dental outreach to children and parents from three local schools and working with the Point Fortin School for the Blind.
As a mentor, Pilla provided multiple shadowing opportunities at her pediatric dental practice in New York City and advised Pawlak in the nonprofit's work of improving children's oral health. Pilla observed that Pawlak was unwavering, unlike many people who have good intentions that fail to come to fruition. "She never lost sight of her direction," said Pilla, who came to Baltimore for Pawlak's graduation and before that attended the launch of Planet Smilez in August 2016 as part of UMB CURE's summer camp.
In Baltimore, Pawlak said, "I found that CURE was the perfect opportunity for me to give back to the community and really make an impact on these children's lives."
UMB Assistant Vice President Elsie Stines, DNP '15, MS, CRNP, who is part of the UMB CURE Core Leadership, said the impact of Planet Smilez goes beyond individual Scholars. "They were able to go back into their communities to teach their family members and friends about the importance of oral health."
Scott Hesel contributed to this article.