On May 19, 132 DDS graduates were hooded, and 18 RDH/BSDH grads received their pins, at the University of Maryland School of Dentistry (UMSOD) Honors Convocation ceremony held at the Hippodrome Theatre.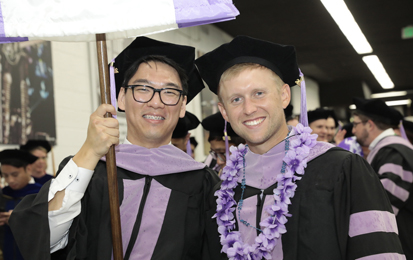 Adam Eisner, DDS '89, president of the UMSOD alumni board of directors, gave opening remarks urging students to be humble, ethical, and to "never, never, never stop learning." He also encouraged the new graduates to stay connected with the UMSOD community as alumni.
"The Dean, the faculty, your fellow alumni, current students expect to see you. Whether you attend a CE class, stop by to say 'hello,' make a philanthropic donation, or volunteer to share your knowledge and practical experience, you are welcome at the School—and you are needed by the School."
Eisner's remarks framed a day of celebration for the entire UMSOD community, featuring honors for graduating students as well as accomplished alums.
Each year, summa cum laude honorees are revealed in the Convocation program. This year's honoreesvwere Nabin Leem (DDS) and Kourtini Taylor McClain (RDH). Leem, who immigrated to the United States from Seoul, South Korea, in 2000, credited the influence and guidance of her parents for her success.
"At the moment that I found out I was summa cum laude, I felt like I had achieved a part of the American dream that my parents had envisioned when immigrating to the United States," she says. "They were the ones who modeled to me the value of perseverance and hard work through the obstacles we faced during our early years here, and I was happy to know that they'll be proud."

Leem will be returning to UMSOD in July to serve in an Orthodontic residency.
The class of 2018 included several students who had a significant impact on the University of Maryland Baltimore (UMB) community and beyond. Tiffany Otto last February won a Diversity Recognition Award as Outstanding UMB Student for her work with students of marginalized ethnic groups and various religious backgrounds. Emily Poulos was named a 2017-2018 UMB Champion of Excellence for her community service work and involvement in several student organizations.
Magna cum laude co-honoree Lara Seidman published four articles in the Journal of General Dentistry during her time as a student, which is nearly unprecedented, according to her faculty mentor, Nasir Bashirelahi, PhD, professor in the Department of Oncology and Diagnostic Sciences.

"I haven't seen this level of productivity from a student in all my years of teaching," he says.

After the ceremony, the new graduates and their families and friends gathered for a celebratory brunch held outside of the school. The day concluded with the UMB Commencement ceremony held at the Royal Farms Arena, where alumni Fred Smith, DDS '78, MS, and Venice Paterakis, DDS '81, received Honorary Doctor of Public Service degrees, and a UMSOD commencement video filmed by D4 student Courtney Miyamoto was shown to the UMB community.