"Alumni Investing in Future Leaders"
The University of Maryland School of Dentistry (UMSOD) is proud to announce the inaugural recipients of a new Dean's Scholarship for Leadership & Excellence. The recipients, LaShonda Shepherd, Doctor of Dental Surgery Class of 2021, and Frederick Flanagan, Doctor of Dental Surgery Class of 2022, each will receive scholarships in the amount of $25,000.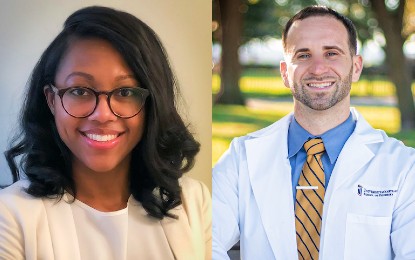 "Dentistry is among the most expensive health professions to study. Our goal is to support students as they focus on academic excellence and benefit from opportunities to enrich their professional development," said Mark A. Reynolds, DDS, PhD, UMSOD dean and professor.
"I am delighted to launch the inaugural Dean's Scholarship for Leadership & Excellence. The achievement and contributions of the students considered for this honor were quite impressive, and I look forward to awarding the scholarship to other remarkable students in future years."
Designed to honor and support students who succeed within the classroom and clinic, demonstrate promise as leaders throughout the school and community, and aspire to continue in public service, the scholarship is supported primarily by the School of Dentistry's "Socks for Scholarships" fund-raising effort. As part of the initiative, launched in late 2019, donors who make a minimum gift or pledge of $100 to the fund receive a pair of UMSOD-themed socks as a thank you.
During fiscal year 2020, the initiative raised nearly $100,000 from more than 300 donors. Thus far this year, Socks for Scholarships has garnered nearly $60,000 from 186 donors.
Increasing the scholarship endowment is a fund-raising priority for the school, said Janet Wiley, assistant dean for Development and Alumni Relations. From 2015 through 2020, the number of scholarships offered students by UMSOD has increased from 39 to 69. The scholarship endowment grew from $2,527,921 to $6,428,501.
"With this scholarship, we are able to offer students significant support as they advance their training as oral health professionals," Wiley said. "I wholeheartedly congratulate both of our recipients."
A Surprise Announcement
To kick off the new scholarship, a surprise was planned for the recipients: Both were invited to meet separately via Zoom for what they thought would be a final application interview. They were met by the UMSOD administrators, Development and Alumni Relations staff members, and alumni who make up the Scholarship Committee and who pretended to interview them.
But a few moments into each meeting, the dean made a surprise appearance — and announced the good news.
To Shepherd and Flanagan in turn, Reynolds said: "You are highly deserving because of your accomplishments and all that you aspire to achieve. We have not lost sight of the tremendous effort and commitment that it takes to excel as a dental student. We are exceedingly proud of you."
Meet The Recipients
Growing up in Grady, a small town in rural Alabama, Shepherd often accompanied her mother to the dentist where she saw first-hand how important access to good dental care could be.
"What really solidified my interest in dentistry was seeing the difference in my mother's appearance and what it did for her confidence," Shepherd said.
"Although my mother could get the treatment she needed, I also saw how many people have significant dental issues because of lack of access and education."
Shepherd majored in public and community health at the University of Maryland College Park with the idea of attending dental school. After graduating in 2009, she decided to work for a year before applying to dental school.
But after she was hired by The Climate Reality Project, an educational nonprofit organization, one year stretched into several. "My initial plan was to pay off some undergraduate debt and then return to school, but I felt like we were doing substantive work, and so I continued to work and began taking evening courses to finish my prerequisites," she said.
Shepherd stayed connected to dentistry by shadowing a dentist in private practice in Oxon Hill and La Plata, Md., and volunteering at Community Clinic Inc., a public health clinic in Silver Spring, Md.
In 2017, she entered UMSOD, where she has remained passionate about expanding access to health care and aiding vulnerable populations. She serves as a mentor to girls in her Alabama hometown as well as to high school students at Vivien T. Thomas Medical Arts Academy in Southwest Baltimore through the Generation NeXT program, which is organized by UMSOD's chapter of the Student National Dental Association (SNDA).
In addition to belonging to the SNDA, Shepherd is a member of the American Student Dental Association (ASDA). During her tenure with SNDA, she has led service initiatives such as free oral cancer screening events and campaigns to collect and donate toys, women's toiletry items, and oral hygiene kits to local shelters. Through ASDA, she has advocated for the expansion of dental coverage for underinsured populations, including the federal Action for Dental Health Act, which became law in 2018 and will increase access to oral health care. Shepherd also sits on the University of Maryland, Baltimore's Diversity Advisory Council and UMSOD's admissions committee.
After graduating in May, Shepherd will begin a general practice residency at the NYU Langone Hospital—Long Island in New York (formerly known as NYU Winthrop Hospital). In the future, she hopes to practice in Maryland while returning regularly to a health clinic located near her childhood home that, at present, has no dentist. In the next year, she said, "I hope to get a lot of experience because I would eventually like to go into public health dentistry and may end up practicing in areas where I am the only dentist in the general vicinity."
Early in life, Flanagan lost his father to a drug overdose. His mother was involved with drugs, too, but over time, joined a church and turned her life around.
"My mother found faith, and she repented and told my sister and me 'from this point forward, I will change my life,'" Flanagan said. "That led her to change all the mistakes she was making. And that led her to become a pastor."
She also began offering shelter to homeless women and children. "As a single mom, she started taking in other single moms. Sometimes they'd be sleeping on the couch. She was doing everything she could to give back," Flanagan said.
Her example also led Flanagan to join her at the Church of God. At age 12, he gave his first sermon; at age 18, he became a pastor. "Growing up in the church after seeing the change in my mom obviously reenforced my belief that this was an answer to my need. It had huge impact," Flanagan said.
Eventually, his mother remarried and took a job in an endodontist's office. She also began urging Flanagan to become a dentist because, she said, the profession offered opportunities to give to those in need.
Flanagan followed her advice and, while in his teens, worked in the Annapolis office of E. Taylor Meiser Jr., DDS '77.
The experience convinced Flanagan that dentistry was for him. "I realized that there were professionals out there doing charity cases and taking the time after hours to help people in need," Flanagan said.
"I realized that as a pastor I can counsel and encourage but telling someone God loves them is one aspect and showing God's love is another. Dentistry became my way of showing that love."
Now in his third year at UMSOD, Flanagan, who is the first in his family to graduate from college, holds bachelor's and master's degrees in biological sciences and applied molecular biology from the University of Maryland, Baltimore County. He is a pastor at the Redemption House Life Center in Pasadena, Md., and is founder of a nonprofit called The Cave, Inc., dedicated to enhancing youths' well-being through events such as contests, games, and live music. He has worked as an inspirational speaker for youth conferences on the East and West Coasts, participated in missions in India, and served as a missionary in Jamaica.
In the future, Flanagan, who lives in Baltimore with his wife and three-year-old daughter, envisions practicing dentistry in an underserved area, participating in many more mission trips, and launching a dental practice through which other practitioners are able to volunteer their time and donate their expertise to those in need. "That's the big picture, and I know I need to take it step by step," he said. "It is something I really look forward to."
For more information on the Dean's Scholarship for Leadership & Excellence, please visit www.dental.umaryland.edu/give/socks.