Valli Meeks, DDS '88, MS '98, RDH, clinical professor in the Department of Oncology and Diagnostic Sciences at the University of Maryland School of Dentistry (UMSOD), is a recipient of the 2020 William J. Gies Award Achievement – Dental Educator.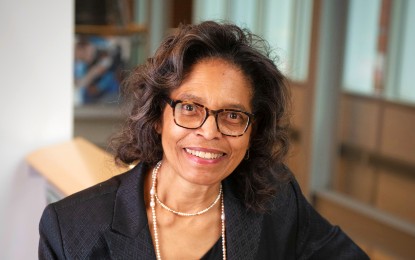 The honor, a tribute to professionals who significantly advance oral health and dental education, is bestowed annually by the American Dental Education Association (ADEA) as part of the William J. Gies Awards for Vision, Innovation and Achievement. Typically, the award is presented during the ADEA Annual Session & Exhibition, which was scheduled to be held in March, but was canceled due to the COVID-19 pandemic.
"I'm still wrapping my head around the idea that this is a national award from such a prominent dental organization recognizing me for what I think of as 'just doing my job,' Meeks said. "But it also galvanizes me to try to improve and do it even better."
For just over three decades, Meeks has served as director of UMSOD's PLUS Clinic, the state's first dental clinic for Marylanders with HIV/AIDS who have no insurance. Established in 1989, the clinic remains Baltimore's primary facility to provide comprehensive oral health services to uninsured and underinsured people living with HIV/AIDS.
"I am extremely pleased and proud that Dr. Meeks' tireless efforts on behalf of those living with HIV are being recognized with this prestigious, national award," said Mark A. Reynolds, DDS, PhD, UMSOD dean and professor.
"She has significantly improved oral health care for people living with HIV/AIDS,
increased understanding of HIV/AIDS among oral health students and professionals and contributed to the quality of life for many."
In 2013, Meeks also teamed up with the University of Maryland School of Medicine Institute of Human Virology's JACQUES Initiative to introduce HIV testing in UMSOD clinics to identify, educate, and refer HIV-positive patients for needed care through the Preparing the Future academic interprofessional program.
In collaboration with Jamie Mignano, PhD, MSN, MPN, RN, and Alexandra Reitz, former executive director and program coordinator respectively of The JACQUES Initiative, Meeks and Marion Manski, RDH, MS, former director of UMSOD's Dental Hygiene Program, worked together to amend the predoctoral dental and dental hygiene curricula to include competency in offering routine HIV testing and linkage to health care, as well as identification of issues that lead to disparities in health care delivery.
As clinical trainer for the MidAtlantic AIDS Education and Training Center, Meeks established the PLUS Clinic as a regional center for the diagnosis and treatment of oral lesions associated with HIV disease.
Her accomplishments extend beyond the Baltimore community: In partnership with the Rwandan Minister of Health and Harvard School of Dental Medicine, Meeks was instrumental in helping launch a Bachelor of Dental Surgery program at the University of Rwanda College of Medicine and Health Sciences. This is the only dental school in Rwanda to offer a Bachelor of Dental Surgery degree; the Class of 2018 represents its first graduating class.
Known internationally as an expert on people living with HIV, she has given presentations in Brazil, Nigeria, Germany, Trinidad and Tobago, and the United Kingdom, among other countries.
Meeks has received other honors, as well. In 2010, she received the Faculty of the Year Award from the UMSOD's Department of Oncology and Diagnostic Sciences. In 2016, she received a University System of Maryland Regents' Faculty Award for Public Service, and in 2018, she was named a University of Maryland, Baltimore Founders Week Public Servant of the Year.
There is still much to be done, Meeks said. Her list includes continuing to spread the message, particularly to youths, that HIV/AIDS is a preventable disease. "Prevention of new cases of HIV is our No. 1 strategy for ending the epidemic locally. Getting the message to young adults and adolescents, as well as to those at risk for acquiring HIV, that HIV is preventable is a top priority," she said.