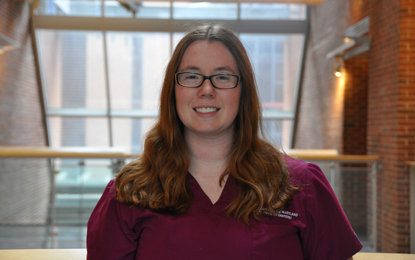 Devon Allison is not your typical third-year dental student.
A combined DDS/PhD degree candidate, Devon completed two years of DDS education in 2014, spent the next three years earning her PhD through the Department of Microbial Pathogenesis in Molecular Microbiology and Immunology, and now is working on the last year of her dental degree –while also teaching first-year dental students microbiology and immunology.
You gotta wonder when she sleeps.
The key, Devon suggests, is that she views her studies, research, clinical hours, and teaching all as interconnected parts of a whole. "The PhD helped me with critical thinking and problem-solving skills that are essential for clinical work," she says. "Nothing is straightforward with a PhD, and nothing is straightforward with a patient. We want them to be like textbook cases, but they are not."
With encouragement from Karen Faraone, DDS, MA, associate dean of Student Affairs, Devon recently applied for and won the ADEA/Crest Oral-B Scholarship for Predoctoral Dental Students Pursuing Academic Careers. The honor was presented March 19 at the American Dental Education Association's 2018 Annual Session and Exhibition in Orlando, Fl.
Devon plans to use the scholarship to further her dream of becoming an educator who also conducts benchtop research—a career path for which an ability to balance competing demands is crucial. "To do both, you have to secure your protected research time and stick to it because when the clinic ends, the clinic ends, and the research must get done," she says.
Devon's educational path could potentially expand the boundaries of what a dentist can be, according to her mentor Mark Shirtliff, PhD, professor in the Department of Microbial Pathogenesis.
"Devon represents the future of dentistry through her combination of evidence-based clinical practice and exciting polymicrobial basic research," he says.

As an undergraduate, Devon received her bachelor's in Biology at Ursinus College. She then decided that dentistry was the best path for a career in health.
"I wanted to do more with my hands and see more people, and dentistry allowed that more than medicine," she says.
As a clinician, Devon is both compassionate and skillful, according to Lisa D'Affronte, DDS, clinical assistant professor in the Department of General Dentistry.
"Devon is a pleasure to work with in the clinics. She is always prepared for the procedure, is very focused, and truly cares about the patients well-being," she says.
After graduating from UMSOD, Devon plans to apply for both a periodontics residency and postdoctoral fellowship in research. She is interested in studying how the immune system responds to periodontal disease.
"The oral immune system is unknown, and periodontics provides an excellent advantage to studying oral immunology, because it is primarily focused on examining the host immune response to micromes," she says.