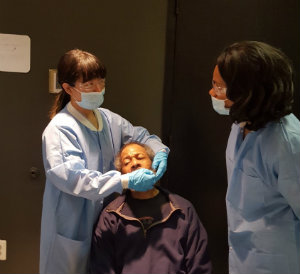 University of Maryland School of Dentistry (UMSOD) students, faculty, and staff volunteers provided free oral health screenings on February 25 at outreach events held at the Lexington Market in Baltimore and the UMSOD Clinic in Perryville, MD.
At Lexington Market, UMSOD student representatives from the American Student Dental Association and the Student National Dental Association provided comprehensive oral care information, dental screenings, and tips on correct brushing and flossing techniques. Called the Charm of a Million Hearts Health Fair, the initiative also included screenings and information on family primary care, heart health, diabetes, and cancer prevention offered by caregivers from the University of Maryland Baltimore School of Pharmacy (UMSOP), Medicine (UMSOM), and Social Work (UMSSW).
"It was a very diverse environment: We had every form of help we could give attendees at the event," said Kyung Min (Luke) Shin, a first-year UMSOD student who chairs the Class of 2020 community service committee.
Typically, first-year students do not participate in oral health screenings, but Shin got involved early, volunteering last November to help with oral health screenings at Coppin State University.
"It's important to perform and see the theories you learn in class put into practice," he said, "that's why I encourage first-year students to come out."
About a dozen students volunteered at the event, providing about an hour of screenings for oral cancer as well as intra- and extra-oral examinations and an hour of oral health instruction.
"These activities keep the UMSOD community connected to initiatives for oral health improvement of Baltimore residents," said Mary Anne Melo, DDS, MSc, PhD, clinical assistant professor, who served as faculty advisor.
Because many of the participants did not have access to affordable health care, student volunteers saw a range of oral health problems. "We had a lot of patients who had a combination of issues and complicated cases, including some form of cavity or periodontal disease," said Shin.
Volunteers provided referrals to the nearby UMSOD dental clinics to patients who did not have a primary care provider, but Shin emphasized that education was essential for long-term improvement.
"Education is really important. It's the primary intervention of public health. We should have more events like these," he said.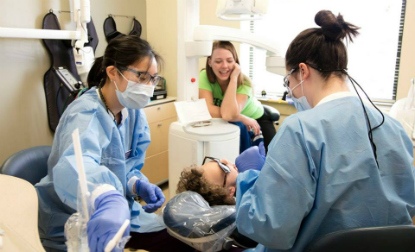 Across the Susquehanna River at the Perryville clinic, 79 volunteers—including UMSOD dental hygiene students, the school's chapter of the American Association of Women Dentists, faculty, staff, and alumni—provided nearly $20,000 of free patient care services to children. Overall, 52 patients were treated, and volunteers placed 258 sealants, gave 42 fluoride treatments, and identified 68 areas of tooth decay.
Called Sealant Saturday, the Perryville event was launched 12 years ago by the Maryland Dental Hygienists' Association to provide care to underserved populations and hands-on experience to dental hygiene students.
"Sealant Saturday is about reaching a population in the area that doesn't generally have the coverage or funds for preventive care," said Leila H. Liberman, RDH, MDE, clinical instructor in the Department of Periodontics, who has overseen the event since its inception. "It's an opportunity for parents to get free care for their children."
Other 12-year veterans of the program include Debbie Mumey, office manager at the Perryville clinic, and Mark Brennan, DDS, MS, clinical assistant professor at UMSOD. First-time volunteers included Thomas Oates, DMD, PhD, professor and chair of the Department of Endodontics, Periodontics and Prosthodontics, as well as John McDaniel, administrative director for the Central Sterilization (CS) and Central Materials Management Systems (CMMS) departments.
The chance to give back to the community also drew alumni including Brian Valle, DDS '88 and Jennifer Patton, DDS '14, as well as hygiene alums Jody Berinato '12, Nancy An '15, Mary J. Piper '16, and Da Choi '16.
Many of the children treated this year were experiencing some form of tooth decay, which remains the most common chronic disease among youths aged 6 to 19, according to the U.S Centers for Disease Control and Prevention.
For parents who may be struggling to afford regular pediatric care, Liberman has a few pieces of advice: "Stay away from the sugared foods, try to make better food choices for your children, and encourage them brush their teeth."
View Photos from Sealant Saturday