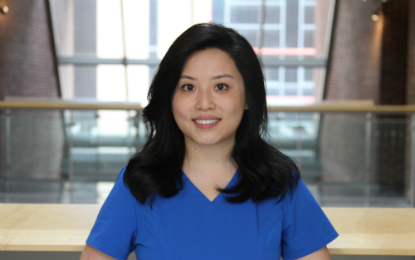 Jie Ge, a Class of 2017 University of Maryland School of Dentistry (UMSOD) student, is the recipient of the 2017 American Dental Education Association (ADEA)/GlaxoSmithKline Consumer Healthcare Preventive Dentistry Scholarship. The honor, which was presented March 21 at the 2017 ADEA Annual Session and Exhibition, is awarded to students who have demonstrated academic excellence in preventive dentistry.
A native of Wilmington, De., Ge became intrigued by public health and preventive dentistry after her first year at UMSOD. "I realized that dental public health was a realm of dentistry that I had never adequately considered," she said.
In 2014, Ge studied the impact of social support and health literacy on oral health knowledge as part of the UMSOD Summer Research Training Program. She was paired with faculty member Mark Macek, DDS, DrPh, professor in the Department of Dental Health, to learn more about the barriers to dental care experienced by the general population.
"The ability to obtain, process, and understand basic oral health information to make decisions is something that we especially take for granted," she said. "How can we expect patients to seek out dental care when they are not aware of how caries develop or how dental insurance works?"
As a result of her work, Ge won the UMSOD Summer Research Program Dental Travel Award and was selected to present her research to other students from across the country at the 2015 Hinman Student Research Symposium in Memphis, Tenn.
Ge learned about the GlaxoSmithKline opportunity through her membership in the ADEA, in which she had been active since the beginning of her Junior year at UMSOD. "I joined to take advantage of the networking opportunities and learn more about the profession."
In 2014, Ge entered an American Dental Association-sponsored video competition on ethics by repurposing a film she created for a class. Ge won honorable mention for her effort.
The recognition Ge has received is a testament to her work ethic and eagerness to take advantage of an opportunity when it presents itself, according to Mona Gorman, clinical assistant professor in the Department of General Dentistry.
"Jie is extremely meticulous and pays attention to detail," said Gorman, "she is focused on the needs of her patients and provides them with superior dental treatment. She is hard working and holds herself to the highest ethical standards."
Ge becomes the first UMSOD student to win the GlaxoSmithKline award since 2008. After graduation, Ge will enter a General Practice Registry at Baltimore Veterans Affairs Medical Center. Her long-term plans are to enter an associateship and stay in the Maryland, D.C. and Northern Virginia area.