Robert K. Ernst, PhD, chair of the University of Maryland School of Dentistry's (UMSOD) Department of Microbial Pathogenesis and the Dr. Paul and Mrs. Jean Corcoran Endowed Professor, is among eight professors who have been recognized with the designation of Distinguished University Professor by the University of Maryland, Baltimore (UMB).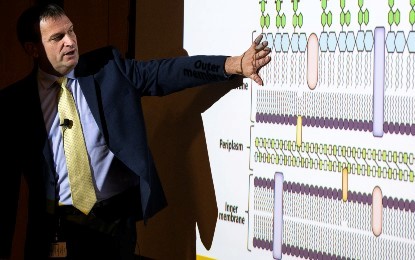 Considered the highest appointment bestowed upon a faculty member, the honor recognizes not only excellence but also the impact and significant contribution to the nominee's field, knowledge, profession, and/or practice.
"Being named a Distinguished University Professor is a great honor not only for me but also for everyone who is working or has worked in my laboratory," Ernst said.
"Without the outstanding graduate students, post-doctoral fellows, research technicians, and research faculty who have worked on the diverse projects in the laboratory, our discoveries and advances in the areas of rapid pathogen diagnostics, sepsis, and vaccine adjuvant development would not have been possible."
Since arriving at UMSOD in 2008, Ernst has become widely recognized as a collaborative and innovative scientist and educator. In addition to his roles at UMSOD, he serves as adjunct professor, Department of Microbiology and Immunology, University of Maryland School of Medicine; and adjunct professor, Virginia-Maryland Regional College of Veterinary Medicine, University of Maryland, College Park.
Ernst has received over $19 million in research funding from myriad agencies including the National Institutes of Health, the U.S. Department of Defense, and the Cystic Fibrosis Foundation.
Specializing in sepsis, bacterial pathogens, and vaccine adjuvant development, he focuses his research on understanding the molecular basis by which microbial pathogens modify the lipid components of a major surface membrane and determines how these changes "affect or circumvent normal host innate immune system responses."
He also is a co-founder of Pataigin LLC, a rapid lipid-based diagnostic and antimicrobial resistance platform dedicated to identifying disease pathogens and determining antimicrobial resistance.
Ernst's work has resulted in over 200 peer-reviewed articles with more than 18,000 citations that have been published in acclaimed scientific journals including PLOS Pathogens, PNAS, Analytical Chemistry, Nature Vaccine, and Science.
"I am extremely pleased that Dr. Ernst is being recognized and honored as a Distinguished University Professor," said Mark A. Reynolds, DDS, PhD, UMSOD dean and professor. "His pioneering basic and translational research will have a significant, far-reaching impact on diagnostic sciences and health care."
This is the latest honor for Ernst, who received the 2021 University System of Maryland Board of Regents Award – Excellence in Research, and the UMSOD 2018 Dr. Mark E. Shirtliff PhD Student Mentor Award. Additionally, in 2017 and 2019, he received the UMB Founders Week Researcher of the Year Award and the UMB Founders Week Entrepreneur of the Year Award, respectively.
The University of Maryland Baltimore will honor and celebrate the eight Distinguished University Professors at a convocation on Thursday, Sept. 14.