At the American Academy of Pediatric Dentistry's (AAPD) annual session, held last month in San Diego, Vineet Dhar, BDS, MDS, PhD, clinical professor and chair, Department of Orthodontics and Pediatric Dentistry, and graduate program director, Pediatric Dentistry, University of Maryland School of Dentistry (UMSOD), won a total of three major awards in honor of his work to improve access to care, his distinguished teaching record, and his contributions to evidence-based dentistry (EBD).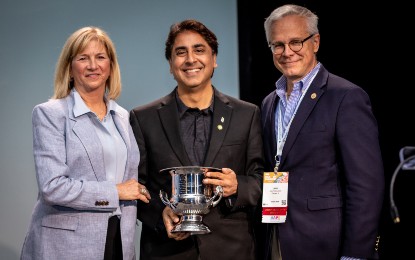 Dhar is the first-ever recipient of the Dr. Beverly A. Largent Access to Care Innovator Award, which contains a $10,000 grant to improve children's access to dental care.
"This award will help facilitate care for children from low-income and underserved families, of which we have a significant population in Maryland," he says.
"I'm appreciative that we can use this award to make a difference in our community."
Another honor that Dhar received, the Dr. Lewis A. Kay Excellence in Education Award, recognizes leadership in the teaching of residents as well as major contributions to the dental profession. The award comes with a $2,500 cash prize, to be used for the awardee's program or continuing education. Continuing a theme, Dhar plans to donate the money to UMSOD's Oral Health for Limited Income Uninsured Young Children (OH-LUCY) program, which enrolls young, uninsured children from Baltimore and neighboring localities.
"The Kay Award means a lot to me, since I've been an educator since I graduated," Dhar says. "This really chronicles the journey."
Looking back at past recipients of the Kay Award, and their stature within the pediatric dentistry community and AAPD, Dhar can't help but pinch himself at joining such an esteemed group.
"I'm honored and appreciative to be listed among other past recipients of the award, to be among them," he adds. "They're really the pinnacle of the profession."
Lastly, Dhar also received the Suzi Seale Coll Evidence-Based Dentistry Service Award, which honors a pediatric dentist who has made outstanding EBD contributions to the profession either through service, publications, or policy development. This award is especially dear to Dhar, he notes, since it's been "at the heart of what I've been doing since 2014."
"I've worked in EBD at the AAPD, the American Dental Association, and the International Association of Paediatric Dentistry, leading a lot of work groups and panels," Dhar says. "The work we do in EBD is, simply put, transformative and very significant."
The award is an important one for Dhar for another reason: its late namesake, Suzi Seale Coll, DDS, MSD, a longtime professor at the Texas A&M College of Dentistry who later served as a member of UMSOD's Dean Faculty.
"I had a great opportunity to work with her directly at UMSOD," Dhar says. "She was a great leader in EBD and very well-respected for her contributions."
"I'm glad I'm living up to her example," he adds.
Dhar notes that while the awards recognize his distinguished career to date, they also honor the work of his team in pediatrics, from his colleagues in clinic to the staff members and students. Together, they work to treat children from all backgrounds and ensure dental students and residents gain the training they need.
"We've always focused on improving access to care for children in Maryland while providing greater patient experiences for students," Dhar says.