It began as a professor's passion for research and mentoring eager-to-learn students. Now, nearly a decade later, Nasir Bashirelahi, PhD, professor in the University of Maryland School of Dentistry's (UMSOD) Department of Oncology and Diagnostic Sciences, has become a guiding force behind a steady flow of articles written by UMSOD students and published in the peer-reviewed journal General Dentistry.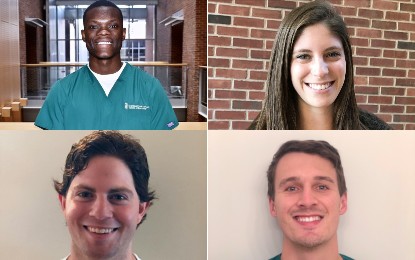 In doing so, Bashirelahi — or "Dr. B" as he is known — also has created an unofficial, school-wide mentorship network by pairing interested students with willing faculty members drawn from a range of departments who then act as co-authors and advisors to the student-writers.
"The idea was to excite young people so they will love scholarly activities." Bashirelahi says. "It is a win-win because if they continue these activities, they will always continue to learn, and if they go into academia, they will already know how to research and write articles."
Bashirelahi's enthusiasm for research is infectious, says John K. Brooks, DDS '79, clinical professor in UMSOD's Department of Oncology and Diagnostic Sciences, who for the past five years has collaborated closely with Bashirelahi.
"Dr. B conceived of the idea of journal articles predominantly written by students but guided by faculty mentors," Brooks says. "Research keeps you fresh. Your patients will see your passion for your field. As educators, we want students to have that passion and fire in the belly."
The articles focus on current topics, frequently suggested by Bashirelahi, from cannabis to the effects of coffee on oral health. Since 2012, UMSOD students and their mentors have produced an average of two articles annually. Faculty members who have co-authored articles include Gary D. Hack, DDS '79, clinical associate professor, Department of Advanced Oral Sciences and Therapeutics; Patricia A. Tordik, DMD, clinical professor and division chief, Endodontics; and Monica P. Schneider, DDS, MS, clinical associate professor and director, Predoctoral Orthodontics, among others.
One recent submission made the cover story of the March/April issue of General Dentistry, the journal published by the Academy of General Dentistry. Its co-authors are John Henry, DDS '21; Griffin Votolato, DDS '21; Brooks; Fouad M. Abbas, MD, of MedStar Health, and Bashirelahi. Titled "What Every Dentist Needs to Know About Human Papillomavirus," it reviews the oral health implications of the human papillomavirus. (An earlier article titled "What Every Dentist Needs to Know About Coffee," also was featured as a cover story in General Dentistry. Co-authored by Lara M. Seidman, DDS '18; Ira T. Bloom, DDS '72; and Bashirelahi, it was published in the July/August 2016 issue.)
For Henry, the experience was challenging and fun. "Research is a great way to stay immersed in emerging topics and is a nice change of pace from clinical dentistry," he says. "Dr. B and Dr. Brooks are great writers, so learning their insights on how to craft a scholarly article was very valuable."
Research always had intrigued Votolato — even before he attended dental school. "I would often glance through the Academy of General Dentistry journal at my father's practice and wonder if someday I could get my name in there," he says. "When presented with the opportunity from Dr. Bashirelahi, I set this goal for myself."
A third article, "What Every Dentist Needs to Know About Electronic Cigarettes," appears in General Dentistry's May/June 2021 issue. Its co-authors are Eugene G. Bestman, DDS '21, Brooks, Behzad Mostoufi, DDS, MDS, clinical instructor and director of the Implant Surgery Program in the Department of Oral and Maxillofacial Surgery, and Bashirelahi.
"I learned so much," Bestman says. "Dr. B taught me how to be disciplined and stay focused, that hard work always pays off. Dr. Brooks taught me how to write and pay attention to detail. I definitely hope to continue to do this at the next stage of my career."