After the COVID-19 pandemic forced the cancellation of a number of end-of-year events, the DDS Class of 2020 found itself with a surplus in its treasury fund.
"We had a very active, great group of fundraisers," said Niklas H. Malmström, DDS '20, class treasurer.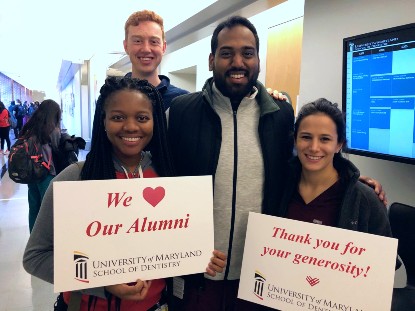 Interested in donating the remaining amount, class leadership turned to Karen Faraone, DDS, MA, associate dean of Student Affairs, this June. She suggested the University of Maryland School of Dentistry (UMSOD) Emergency Student Assistance Fund, created this spring to help those students experiencing financial difficulties as a result of the pandemic. Students who applied for the emergency aid could receive a stipend of up to $600.
Class leadership took a poll of their fellow classmates and found that more than 80 percent of respondents were in favor of donating to the fund as a way to help others and pay forward the benefits of philanthropy they themselves received while students at UMSOD – from scholarships to grants like those from the Emergency Student Assistance Fund.
"We thought it would be nice to donate to this cause as a sendoff from the Class of 2020," said Malmström, now a resident at New York Presbyterian Brooklyn Methodist Hospital.
The story gets better, though. Faraone suggested the class look into the matching program established by the University of Maryland, Baltimore (UMB) Foundation's board of trustees, which matched any gift from $25 to $1,000.
The one sticking point? The deadline for the program was April 30.
However, after an inquiry by UMSOD's Office of Development and Alumni Relations, the UMB Foundation was able to grant a generous one-time exception. That meant an additional $1,000, the maximum allowable, became available to assist even more UMSOD students.
All told, almost $3,000 was donated to the Emergency Student Assistance Fund as a result of the Class of 2020's efforts.
"The decision to make this donation shows how much members of Class of 2020 care for the University of Maryland School of Dentistry and their fellow students," said Josh Hiscock, UMSOD's director of annual giving. "It also really highlights the culture of philanthropy we are building among students."