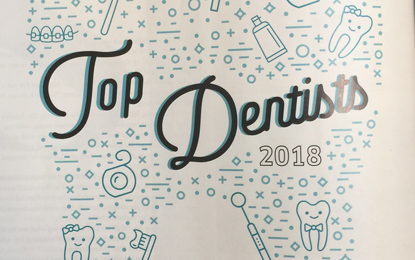 The "Best Dentists" list, which was published in the June issue of Baltimore Magazine, features University of Maryland School of Dentistry (UMSOD) alumni in nearly every specialty, as well as several who were named "Leaders of the Pack" in their field by their peers. The issue also includes comments by Harlan Shiau, UMSOD clinical associate professor and postgraduate periodontal program director, in an article on DNA testing in dentistry.

Congratulations to the following alumni:
Endodontists
Louis Berman, DDS '81
H. Kathy Lee, DDS '98
Jeffrey Liberman, DDS '76
Kenneth Mangano, DDS '00
Judy Melamed, DDS '05
Andrew Reff, DDS '08
Brenda Richardson, DDS '88
Vandana Saidha, DDS '05
Bradley Trattner, DDS '88*
Eric Volk, DDS '04
General Dentists
Charles Fine, DDS '81*
Nicole Forel, DDS '05
Arthur Goldvarg, DDS '80
Anthony Hamod, DDS '10
Leon Katz, DDS '76
Richard Lamb, DDS '73
William Leboe, DDS '74*
Denise Markoff, DDS '81
Robert Minch, DDS '83
Joshua Weintraub, DDS '96*
Oral-Maxillofacial Surgeons
John Emmett, DDS '89
Paul German, DDS '93
Julius Hyatt, DDS '84*
Bernard Krupp, DDS '82
Michael Schwartz, DDS '99*
Leonard Spector, DDS '81*

Orthodontists
Thomas Barron, DDS '91
David Bonebreak, DDS '08
Nicole Brummer, DDS '02*
James Gordon, DDS '78
Barbara Halpern, DDS '77
Robert Isaacs, DDS '84
Jeffrey Jarvis, DDS '97
Jonathan Lang, DDS '02
Joseph Laponzina, DDS '92
Jeffrey Miller DDS '82
Malread O'Reilly, DDS '88
Edward Silverman, DDS '97
Elizabeth Spannhak, DDS '84
Moshe Stern, DDS '10

Pediatric Dentists
Austin Bowden, DDS '14
Diana Capobianco, DDS '94
Ed Ginsberg, DDS '82*
Shari Kohn, DDS '90*
Hakan Koymen, DDS '03
Sandra Shih, DDS '01
Luz Tennassee, DDS '05
Suzanne Wallengren, DDS '99*

Periodontists
Wendy Burstein, DDS '01
Bryan Fitzgerald, DDS '90
Barbara Lesco, DDS '77*
Bruce Mandel, DDS '79
Kathryn Mutzig, DDS '90
Arash Rostami, DDS '08
Shalini Sethi, DDS '05
Leo Trail, Jr., DDS '79
Kim-Thi Van-Dinh, DDS '12
Karl Zeren, DDS '75*

Prosthodontists
Keith Boenning, DDS '83*
Sylvan Feldman, DDS '65
Michael Linnan, DDS '84
Patrick Ousborne, DDS '93
Martin Schwartzberg, DDS '95*
Ghassan Sinada, DDS '01

*Indicates being named a "leader of the pack" based upon peer recommendations.