One hundred and twenty-nine dentistry students received their doctoral hoods, and 20 dental hygiene students received their pins during the Honors Convocation held Friday, May 19, at the University of Maryland School of Dentistry (UMSOD).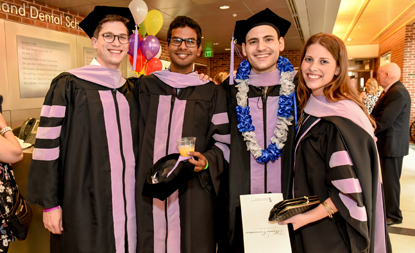 Throughout the day's festivities, compassion, service, and friendship were celebrated. Jessie Goldman, DDS '17, kicked off the convocation by performing on his violin as guests arrived at the Hippodrome Theatre. During his opening address to the students, Ali Behnia, DMD, ENDO '98, president of the Alumni Association Board, urged that class members of 2017 "never forget their humble beginnings."
Pointing to the progress women have made in dentistry in the past two decades, class President Megan Golia, DDS '17, said "Twenty years ago, 14 percent of dentists were women. "Today, I am proud to say that our graduating class is 51 percent women. Thank you to the University of Maryland for believing in us when we submitted our applications 5 years ago. You have now seen our tears and shared in our success. You made us a family, and for that we are forever grateful."
Golia also noted that members of the Class of 2017 had logged 7,713 cumulative community service hours, which were bolstered by the outstanding contributions of individual students. Jorden Virden, DDS '17, president of the UMSOD chapter of the Student Dental Association, served 237 community hours over four years. She shared the Alpha Omega Scholarship Award, given to students who have shown a commitment to community outreach, with Summer Ceraolo-O'Donnell, DDS '17, who served 198 hours.
Allegra Lichauco, DDS '17, received Summa Cum Laude honors. In 2016, she participated in UMSOD's Honduras outreach program along with four other students. Next year, she will enter a General Practice Residency at the Veterans Affairs Medical Center in Washington, DC.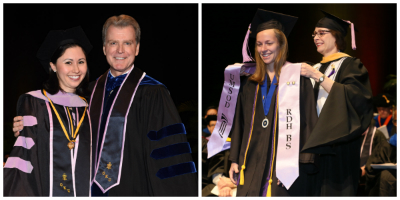 She credits her classmates with enriching her experiences at UMSOD. "We've all helped each other enormously along this arduous, four-year-long path, and I'm beyond grateful for their support and camaraderie," she said.
This sentiment was shared by Dental Hygiene Summa Cum Laude honoree Sabrina LeBon.
"I felt extremely honored in receiving Summa Cum Laude because I was able to be acknowledged for my academic and clinical dedication. However, I was surprised as my classmates are also extremely hardworking and excel in the dental hygiene curriculum," she said.
After Honors Convocation, graduates convened for brunch at UMSOD. Concurrently, nine students were honored at the Military Commissioning Ceremony. Retired Col. Jeffrey S. Almony, DDS '89, MD, served as guest speaker and commissioning officer, and commissioned his son, Michael Almony, DDS '17.
Hours later, UMSOD shone again at the UMB commencement ceremony. Joseph Fishbein, DDS '17, began the ceremony by singing the national anthem. And William P. Magee Jr., DDS '69, MD, chief executive officer and co-founder of Operation Smile, urged the graduates to be compassionate and empathetic during his keynote address.
"The world is out there for you. There is so much need that exists in our world and you have so much talent — find ways to explore it a little bit. Knowledge and science are crucial, of course, but knowledge alone will not suffice if there's no heart."