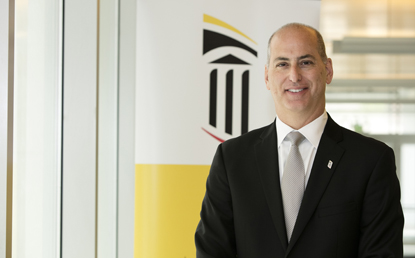 Adam Eisner, DDS '89, values his years at the University of Maryland School of Dentistry (UMSOD) for the strength of its community, both in the bonds formed in the classroom and the lifelong friendships that have continued.
"I was very fortunate to have a very tight class," he said. "You stare at the same 100 faces day in and day out for four years; it's no surprise you make some friends for a lifetime."
Eisner was inaugurated president of the Alumni Association Board during All-Alumni Reunion held June 2-3, and he hopes to build on the efforts begun in recent years by his predecessors to increase alumni engagement with the school.
"The leaders before me—Ali Behnia, DMD, Endo '98, Bradley Trattner, DDS '88, Endo '90 and Barry Cohan, DDS '74, '76 have embarked on a quest to increase alumni involvement," Eisner said. "The root of the school is our 8,000 alums. They are the lifeblood of our institution. If we can get more contributions from even a small fraction, we could offer a lot more."
A native of Woodbury, NY, Eisner operates a private practice in Silver Spring, MD and lives in Reisterstown, MD with his wife, Melissa. The couple have two daughters: Emily, who is in graduate school at Towson University, and Lauren, who is an undergraduate student at the University of Maryland, College Park.
Growing up, Eisner enjoyed working with his hands, including building wooden airplanes. His older brother and role model, David, inspired him to become a dentist. By the time Adam was a teenager, David, the elder by 13 years, had already graduated from Georgetown University School of Dentistry and was operating a private practice in Rockville, MD.
Eisner enrolled in UMSOD partly because of its proximity to his brother. In addition, Bradley Trattner, one of Eisner's good friends from his undergraduate days at State University of New York at Albany, was already attending UMSOD. "I visited Brad while I interviewed, and he was one of the people who sold me on the school," he said.
Eisner embraced all opportunities to get involved while enrolled at UMSOD. He served as the student liaison of the undergraduate academic committee, was the editor of the school yearbook, and was part of both the Gamma Pi Prosthodontic Honor Society and the Alpha Omega International Dental Fraternity.
"I tried to maintain a balance between the dentistry aspect and the interaction with my fellow classmates and faculty. It made the whole experience a lot easier," he said.
After graduating, Eisner served in a one-year general dentistry residency at Prince George's Hospital Center in Cheverly, MD. His co-resident also was a UMSOD alum, Chip Coffin, DDS '89, just one example of the many lasting personal and professional bonds Eisner has forged with fellow UMSOD alumni, Eisner said. "We were the on-call, shock-trauma doctors for oral maxillofacial surgery. It was an exciting time."
Following this, he worked for a few years in several private practices before launching his own practice in 1995. He became involved in the Alumni Association Board five years ago when the Baltimore chapter of the Alpha Omega fraternity was dissolved. Eisner and Trattner, both members of the fraternity, were searching for a meaningful way to distribute the chapter's leftover money. Ultimately, they established the Alpha Omega International Dental Fraternity Scholarship, given annually to a rising UMSOD senior who has demonstrated academic achievement and commitment to providing care to the community.
In addition to the Alpha Omega scholarship, Eisner and Trattner also aim to establish a new endowed scholarship in support of a UMSOD student who has displayed both academic achievement and a commitment to the military. The scholarship is intended to honor their fathers, who both served in the military. Eisner's father was a B-17 tail gunner in the United States Army Air Corps during World War II. Trattner's father served in the Marines during the Korean War.
It was Trattner who initially convinced Eisner to join the Alumni Association Board. For him, getting Eisner involved was a no-brainer. "I have known Dr. Adam Eisner for over 35 years, and I can truly say that he is one of the most caring, ethical, professional and genuine people that I know," he said. "He is the epitome of the definition of a 'mensch.'"