Children's access to oral health care in Baltimore just received a significant boost.
That's because Vineet Dhar, BDS, MDS, PhD, clinical professor and chair, Department of Orthodontics and Pediatric Dentistry, received two separate $100,000 grants for the Oral Health of Limited Income Uninsured Young Children (OH-LUCY) program at the University of Maryland School of Dentistry (UMSOD).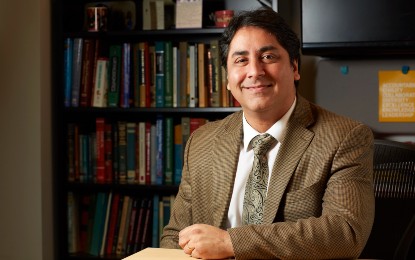 Under Dhar's guidance, OH-LUCY provides high-quality oral health care to uninsured children from Baltimore and its neighboring communities. Since its inception last decade, the program has worked with community partners to identify and refer patients, serving anywhere from 300 to 400 children annually.
"The program is an essential building block for improving health in a population that's often overlooked," says Dhar.
One of the recent $100,000 grants is endowed by the Delta Dental Community Care Foundation, which works with nonprofit partners across 15 states and Washington, D.C., to strengthen communities through increasing access to dental care, providing access to oral health education, and supporting organizations doing this vital work.
This is the second year in a row that the Delta Dental Community Care Foundation has supported OH-LUCY with a generous grant.
"Given the amount funded, Delta Dental's grants last year and this year really allow us to formalize the program," says Dhar. "They allow us to increase visibility, expand our horizons, and make the model more sustainable."
The other recent large grant is endowed by the Abell Foundation, an organization located in, and exclusively focused on, Baltimore City. The Abell Foundation supports organizations working to reduce racial disparities in receiving vital healthcare.
"Partnering with Abell is great because the foundation's focus is similar to ours: Baltimore City, where the need is greatest," says Dhar.
"It's great to find mission-aligned partners to give back to these children," he adds.
Together, these two crucial grants will help Dhar and his team in pediatrics continue to provide vital dental care to uninsured and underserved youths. He notes that "it's been a journey these last seven to eight years," securing the initial funding and then growing the program.
"We're honored and fortunate to work with all of our sponsors, from the Delta Dental Community Care Foundation to the Abell Foundation to our alumni donors," Dhar says.
"Together, we're making a difference in families' lives in a very significant way," he adds.
For children across the Baltimore region, this summer – and their smiles – just got a bit brighter.