On May 20, when Umar Mian, DDS '22, was unable to attend the University of Maryland School of Dentistry's (UMSOD) Honors Convocation due to emergency surgery, his absence was noticed.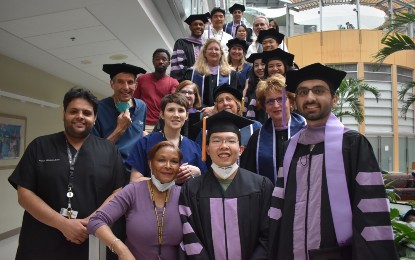 After the ceremony, Omar El-Sayed, DDS '22, mentioned to Cynthia Idzik-Starr, DDS, clinical associate professor and director of urgent care, how much his classmate Mian was missed. Her response: If he can't come to us, let's take the ceremony to him.
"One thing led to another," El-Sayed says.
On June 7, a surprise ceremony was held at the University of Maryland Medical Center, orchestrated by Idzik-Starr, El-Sayed, Umar Mian's sister Harima Mian, DDS '20, and others. The event drew about 30 friends, family members, and faculty, some of whom wore all or part of their academic regalia.
"You were missed at the convocation, a ceremony that affirms the commitment, hard work, and dedication that you made to the oral health profession, said Karen Faraone, DDS, MA, associate dean of Student Affairs, who offered welcoming remarks. "We congratulate you on this extraordinary accomplishment. Despite the pandemic and personal health concerns, you have demonstrated remarkable resilience, perseverance, and adaptability."
Next, Patricia Meehan, DDS, BSN, associate dean of academic affairs, led the professional oath, and Idzik-Starr placed the hood on Umar Mian.
"There are no words that I can say to describe my feelings and appreciation of what you all have done for me," Umar Mian wrote later in an email. He is feeling better, he added, and is completing a general practice residency at Baltimore Veterans Affairs Medical Center.