Isabel Rambob, DDS, clinical assistant professor in the Department of Neural and Pain Sciences at the University of Maryland School of Dentistry (UMSOD), is the inaugural recipient of the UMBrella Person of the Year – Leading the Way award.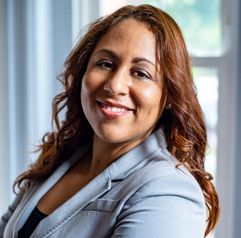 Announced at the Women's History Month virtual symposium "The Myth of Balance or The Art of Being Unbalanced" in March, and presented by the UMBrella Group: UMB Roundtable on Empowerment in Leadership and Leveraging Aspirations — a community-building organization at the University of Maryland, Baltimore (UMB) created to empower women and those who identify as women – the award honors Rambob's many years of mentoring dental students and her work as co-director of UMSOD's Domestic Violence Survivor Clerkship.
"It's so meaningful for me, as a female dentist," Rambob says. "I've been very fortunate to have people there for me, so I know the impact they can have."
She first joined UMSOD in 2009 and, in 2010, quickly turned her attention toward mentoring female dental students in all aspects of the profession – from their studies to future career choices to patient communication.
"I would emphasize development of communication skills, so that patients would be more inclined to take advice from, and follow the recommendations of, the dental students," Dr. Rambob recalls. "Or I would advise students looking for jobs, or help those navigating employment contracts."
As a former General Practice director, she would go above and beyond her duties as a mentor.
"I never miss an opportunity to be there for students," she says.
The year 2010 proved to be a busy one for Dr. Rambob, as she also assumed a leadership role with the Domestic Violence Survivor Clerkship. Initiated by then-senior dental student Dan Gibson, DDS '11, the program provides free dental care to a vulnerable population by matching fourth-year dental students with patients in need. In 2014 – thanks to the efforts of Dr. Rambob and Co-Director Mona Gorman, DDS, clinical assistant professor in the Department of General Dentistry – what began as a pilot program became an official UMSOD clerkship that allows students to earn credit for their participation.
Each year, four to six students are selected to participate in the clerkship, which, in addition to its clinical component, requires a biweekly literature review focusing on the oral health care needs of domestic abuse survivors. Students are also required to write a reflection paper about their experience participating in the clerkship.
"A challenge for survivors is finding dental care by compassionate, nonjudgmental providers," Dr. Rambob says. "We offer that."
The clerkship dovetails well with UMSOD's purpose of advancing oral health and improving lives.
"We have wonderful testimonials of how the completion of the dental treatment has really enhanced the self-esteem and self-love of our patients and has motivated them to implement self-care practices that will impact their overall health," Dr. Rambob says.
Rambob was not only honored at last spring's symposium; she presented a breakout session, as well. Titled "Self-Awareness, Well-Being, and Professional Success: Finding the Balance," her presentation explored the links between increased self-awareness and well-being on professional success.
"Finding [a] balance requires self-examination, setting priorities, and focusing on what really matters," Rambob wrote in the program notes.
A member of the UMBrella Group's advisory board, Dr. Rambob has long been active throughout UMB in many other capacities.
"I'm really committed to service," she says. "I enjoy being on committees across the University. It gives me perspective and the ability to connect with others on campus."
"Dr. Rambob is truly someone who gives a great deal of herself," says Mark A. Reynolds, DDS, PhD, dean of UMSOD. "Whether through her work as a faculty member; mentorship of dental students, in particular women; or efforts to address the oral health needs of domestic violence survivors, she has had a significant, positive impact at the School of Dentistry and UMB as a whole."
As she looks back on her years of service, thus far, Rambob recalls those who came before her.
"I dedicate my award to my maternal grandmother and my mother, who told me the best way to live your live is in the service of others," she says.
"I have tried to live up to their example."
As so many dental students and patients can attest, she has certainly done that – and more.