Whether handing out water during a 5K held on behalf of 9/11 survivors and responders or mentoring a middle school student as part of the University of Maryland, Baltimore CURE Scholars program, Katherine Ong, DDS '20, loves the feeling of being part of something bigger than herself coupled with the opportunity to help those in need.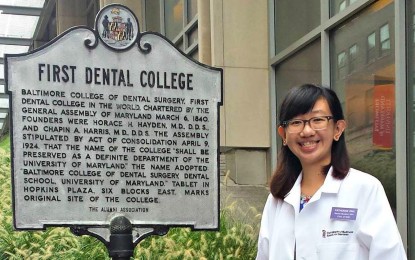 "Ever since high school, I have enjoyed community service. It's the sense of being with people who have the same goal — to help other people — whether cleaning the park or providing dental care to people in need, that makes it fun," Ong says.
Now a resident with Christiana Care Health System in Wilmington, Del., Ong is a recipient of a 2020 Student Leadership Award presented by the Delta Dental Community Care Foundation.
The honor recognizes students who have demonstrated leadership skills, commitment to public service, and outstanding service or accomplishments in the field of dentistry. Ong and her fellow award recipients each received $10,000 from the foundation with the hope that as they develop their careers, they also will continue to serve their communities.
While a student at the University of Maryland School of Dentistry (UMSOD), "Dr. Ong showed a commitment to helping educate, mentor, and provide oral health care for the underserved that was exemplary," said Mark A. Reynolds, DDS, PhD, UMSOD dean and professor.
"She is clearly deeply committed to expanding access to and knowledge about oral health. I am very pleased and appreciative that she has been selected by Delta Dental for this prestigious honor."
Ong's volunteer activities at UMSOD included, among many others, working at Mission of Mercy events, which provide free oral health care to underserved populations; providing oral health screenings or instruction to underserved populations through UMSOD's Chinese Student Association and Korean American Student Dental Association; preparing dinners for the homeless through Helping Up Mission, which aids those struggling addiction and homelessness; and running the neuroanatomy practical for high school students at the U.S. National Brain Bee, a competition for high school students aimed at inspiring them to pursue careers in neuroscience.
While attending high school in Springfield, Va., Ong initially became enamored with community service. "It is an indescribable feeling to do something for someone who may not remember your name, but will never, ever forget your kindness."
Born with a cleft lip and palate, she was inspired to pursue a career in oral health, in part, by her "long journey as a patient," she says. "I really appreciated the help that my dental team gave me while improving both function and aesthetics."
Nonetheless, she wasn't sure that dentistry was for her until she shadowed a local practitioner while attending the University of Virginia as an undergraduate. "What really convinced me was being able to help [patients] so immediately," she says.
In the years to come, Ong hopes to build a career working in a community dental clinic that she describes as "the type of setting where you treat patients who may not be financially stable, but you are able to help them receive treatment."
The Delta Dental award will help her pursue that goal, she adds. "To be recognized as a Delta Dental Student Leader is an honor, and there are no words to accurately describe the depths of my appreciation."