Mary Ann Jabra-Rizk, PhD, a professor in the University of Maryland School of Dentistry's (UMSOD) Department of Oncology and Diagnostic Sciences, personifies the power of partnership.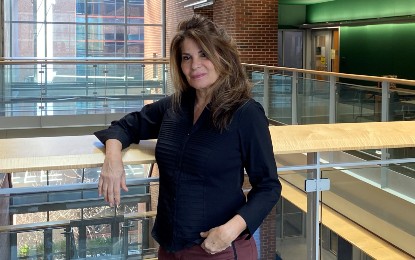 As such, she is one of six University of Maryland (UM) faculty members recently granted MPower Professorships, a distinction set aside for a prestigious mix of innovative researchers and outstanding leaders on the UM campuses. Rather than working in a silo, these MPower Professors are recognized for their keen ability to work across disciplines with fellow colleagues in a concerted effort to speed the pace of discoveries that – in time - will benefit fellow Marylanders.
Jabra-Rizk's specialty is fungal pathogenesis, and her research is focused on investigating the virulence factors in the human fungal pathogens Candida species within the context of biofilm formation, and development of drug resistance, typically associated with the use of catheters and other indwelling medical devices. The overall goal of her work is to identify novel therapeutic strategies that will better protect the patient community from Candida infections.
Over the years, Jabra-Rizk, who also serves as a professor in both the Department of Microbiology and Immunology and the Department of Pathology at the University of Maryland School of Medicine (UMSOM), has partnered with researchers at UMSOM, the University of Maryland, College Park (UMCP) and the A. James Clark School of Engineering.
There, she collaborated with Ryan Sochol, PhD, an assistant professor in the Department of Mechanical Engineering to develop a denture acrylic material designed to help prevent Candida-associated denture stomatitis, a debilitating oral condition that affects up to 70 percent of denture wearers.
Jabra-Rizk received her PhD in microbiology and immunology and a BS degree in medical technology, both from UMB, as well as a BS degree in medical laboratory medicine from the American University of Beirut. She also serves as principal investigator on four funded National Institutes of Health grants; two institutional and two international.
"I've been fascinated by science since I was young," said Jabra-Rizk, who joined UMSOD in 1997 as a PhD student. "I remember for my thirteenth birthday I asked for a microscope and would spend hours looking at insects and hair. As a teen, I already knew I wanted to be a scientist and specifically a microbiologist. I got interested in fungal research when I worked at [Johns] Hopkins [University] as a clinical microbiologist, then later pursued the specialty in my graduate studies and postdoctoral training. Looking ahead, I do not think about retirement," she added. "What I do is a passion, and I plan to contribute for as long as I can."
MPower Professorships include a $150,000 stipend – awarded to each recipient over three year -- and are meant to supplement salaries and/or support strategic partnerships and ongoing and upcoming research activities.
"Through her multiple collaborations, Dr. Jabra-Rizk and her colleagues are capitalizing on the collective strengths of their independent labs to pursue novel solutions to medical problems that would be otherwise unattainable," said Mark A. Reynolds, DDS '86, PhD, UMSOD dean and professor. "I am pleased and proud that she was selected for this award. I believe that her collaborative work is innovative and has the potential to better the quality of life for many."